Industry response to the EOBR provision in the highway funding legislation signed into law on July 6
"This legislation, while not all we could have hoped for as an industry and as users of the highway system, makes tremendous strides in the safety arena and puts down a marker for future improvements to our nation's freight infrastructure. … The conferees have set our industry on the path to even greater improvements in safety by requiring the Department of Transportation to mandate that truck drivers use electronic devices to record their compliance with the hours-of-service requirements. This is a tremendous leap forward for trucking that will bring our compliance systems into the 21st century, level the playing field for our industry and lead to even fewer crashes on our nation's highways."
– American Trucking Associations
"We strongly support electronic logging devices for HOS compliance. Our members have found that the drivers that work for them like them as well. We are thrilled that it did make the House bill and the language is in there. Congress and the industry as well as FMCSA all seem to be on the same page with this."
– Dave Heller, director of safety policy,
Truckload Carriers Association
"Hours-of-service compliance is far and away our largest driver-related safety challenge. Overall, CVSA strongly believes that EOBRs help to improve compliance, expand the enforcement footprint and increase its efficiency, as well as to help mitigate the falsification of logbooks, thereby allowing it to contact more carriers and helping to level the playing field – ultimately improving compliance and safety. This, in turn, affects how enforcement targets their resources with respect to carriers and drivers."
– Commercial Vehicle Safety Alliance
"Today is a momentous day for truck safety. I commend Congress and the president for enacting a surface transportation authorization bill that requires EOBRs. Fatigue is an industrywide systemic problem, and the EOBR requirement will accurately monitor drivers' hours on the job, resulting in getting overly tired drivers off the road. … With this EOBR requirement, other families, as well as truck drivers, will be better protected."
– Daphne Izer, Parents Against Tired Truckers
"The EOBR proposal doesn't just have a few warts – it's riddled with tumors, rendering it totally ineffective at improving safety. The issue is far from settled. … Proponents have pushed for EOBRs and other technology under the pretext of safety while at the same time opposing basic training standards. They want small businesses to spend billions on something that will never make up for the lack of training. That hypocrisy proves this is actually a way for large motor carrier companies to squeeze more 'productivity' out of drivers and increase costs for the small trucking companies they compete with." 
– Owner-Operator Independent Drivers Association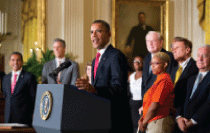 So what do you think?
Tell us at ccjdigital.com/polls