Calling All Devices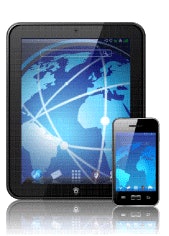 Mobile management adds security, flexibility to enterprise IT
There was a time – perhaps only recently – when fleets purchased mobile devices for only one reason: to capture information from vehicles and drivers. Then came smartphones and tablet devices. Now all employees want to use apps inside and outside the office to stay productive.
According to a recent survey from research firm Strategy Analytics, enterprises are planning to purchase 44 percent more Android tablets and 34 percent more iPads over the next 12 months. The survey also found that enterprises are paying for nearly 80 percent of related smartphone costs and replacing the devices every 13 months.
Managing this influx of devices can present a major IT challenge. How can companies support a whole new set of software applications and operating systems such as Apple, Android and Windows Mobile? New levels of support are needed to secure company data and update, troubleshoot and repair software, among other tasks. Fortunately, most of this can be done without having to touch devices physically.
Andrews Distributing, a Dallas-based beer distributor, delivers throughout Texas within 24 hours of customers placing their orders. The company, which has deployed about 1,000 mobile devices to its drivers and salespeople, cannot afford service failures due to technical issues or inoperable devices.
Drivers are using rugged Windows Mobile devices from Motorola and Intermec, while salespeople are using iPads. About 90 percent of the applications installed on Andrews' devices are the same; all are equipped with e-mail and a payroll time-tracking system. The main difference is that drivers' devices have an application to track delivery details, while the iPads have office applications.
*App boom: Employees want to stay productive inside and outside the office.
*Security issues: Managing these devices presents an IT challenge for fleets.
*Taking control: Mobile device management systems protect corporate data.
To keep its technology running smoothly, Andrews implemented the Soti MobiControl enterprise mobile device management system that works by installing an agent on the devices to enable communication with the MobiControl server. MobiControl has made it easy to load software onto devices, says Scott Jenkins, Andrews information systems administrator. Jenkins uses his mouse to click and drop the new device into a folder set up for each company department, such as "drivers in north Texas."
Jenkins says MobiControl is a "hands-off" way to manage devices. Once a device is dropped into a folder, it is locked down automatically, or provisioned, for the specific apps that have been preapproved for end users. Software apps on the devices can be updated automatically by pushing the updates out during the nighttime; the devices reboot automatically when the updates are complete.
Fleets also are challenged with ensuring uniform control and management of Android devices. Whereas only one hardware manufacturer creates devices for the Apple OS, Android devices are made by more than 100 manufacturers, many of which have not provided an application program interface for MDM vendors to leverage. Soti says that MobiControl is compatible with all Android devices uniformly, regardless of manufacturer.
The number of devices that transportation companies manage will continue to grow. The use of MDM software has become critical to protect corporate data, decrease the workload on IT departments and give employees more choice in the devices they can use.

Aaron Huff is Senior Editor of Commercial Carrier Journal. E-mail [email protected] or call (801) 754-4296.
U.S. Bank acquires TransCard's heavy-truck fuel card network
U.S. Bank, a provider of fuel card services for Class 1-6 cars and light trucks, announced that it is entering the large commercial truck market with the acquisition of TransCard's Class 7-8 fuel card network, including the product technology and its nationwide acceptance network. TransCard developed the platform in partnership with Chattanooga, Tenn.-based U.S. Xpress, which will become the premier client of the new dual-function U.S. Bank Over The Road Card program scheduled to launch in September.
The U.S. Bank Over The Road Card's fleet functionality can be used for any company-authorized expense, including fuel, maintenance and tolls at thousands of locations. To provide greater convenience and accessibility for drivers, the card also features a "dual wallet" combining the charge functionality with a MasterCard prepaid account that allows direct deposit of payroll or other funds onto the card, which can be used wherever Debit MasterCard is accepted.
"This acquisition extends our suite of fuel and maintenance solutions and allows us to serve the full spectrum of fleet clients, from cars to heavy-duty trucks," said Kurt Adams, president of U.S. Bank Corporate Payment Systems. "The card's unique real-time spend controls and fraud prevention allow companies to manage their card programs for maximum efficiency and lowest cost." Terms were not announced.
TCG updates Truckload Cost Information System
Transportation Costing Group, a provider of activity-based costing and profitability management solutions for truckload and less-than-truckload carriers, announced the latest version of its Cost Information System for truckload carriers. All enhancements are included in the new version of TL/CIS at no additional charge for existing customers.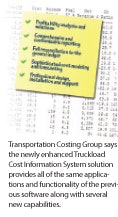 One new feature, Freight Impact Modeling, reports on the impact of removing specific freight for a customer or lane, drilling deeper to show the opportunity for an increase or decrease in profitability. The new Driver Productivity Monthly Report includes indicators that can affect freight profitability, such as loaded and empty miles, hours and loads dropped.
"This information can lead to effective decisions about driver hiring and training needs, an important part of carrier operations in today's operating environment," says Ken Manning, president of TCG.
Other new features of TL/CIS include interfaces with ALK PC Miler to add toll cost information when costing freight. A new EZPass option accepts two separate source files to obtain actual toll payments and link them to the specific freight, making it easier for carriers making automatic payments to obtain toll costs.
"We continue to realize growing use of our latest activity-based solution for truckload carriers, because the need for accurate cost analysis has never been greater," Manning says.
Technology in Focus: Driver Score Cards
Scoring Drivers
Technology helps drivers keep score and even polish their resumes
By Aaron Huff
Technology such as onboard computers has expanded the available information that fleets can collect on drivers. Any exception to company policies for safety, compliance, customer service and fuel efficiency can be detected in an instant.
Drivers also can be scored and ranked according to their value to the company. Keeping score also can be a two-way street that allows drivers to see their rankings and motivates them to improve. By using the latest features and applications, drivers can use information to fuel their will to succeed.
Delivering data to drivers
Scorecards can be used to promote fuel-efficient and safe driving and reduce maintenance expenses. PeopleNet customers can use the onboard computing and mobile communications platform to display long and short idling – number and percentage of total engine time – as well as sudden accelerations and decelerations, over rpm, average speed, maximum speed and overspeed, says Rick Ochsendorf, senior vice president of operations and product management.
"Our team finds it easy and convenient to use."
– Al Lacombe, director of safety and training, Dupre Logistics
Xata Corp. has both a driver and a manager scorecard built into its Turnpike fleet management system. Drivers see their summary score – based on a scale of 100 – when they log out of the application. Fleets choose the weights for the categories, including safety, speeding, fuel efficiency and compliance.
Xata plans to introduce a new tool created specifically for drivers. The first release, scheduled this month, will be a social networking tool for drivers to access industry information from other drivers, transportation managers, law enforcement, consultants and Xata staff members.
Next year, Xata plans to release a component to give drivers a personal resume. Drivers will be able to access a history of their compliance, safety and profitability using data collected by Turnpike. Xata plans to include elements such as hard-braking events, speeding, fuel efficiency, hours of service and route compliance.
"Our goal is to have this tool become a standard in the hiring process," says Christian Schenk, vice president of marketing and product development.
Fueling competition
Scorecards frequently are used to promote friendly competition among drivers, and with new mobile apps, the contest can extend outside of the cab.
In 2010, Spireon partnered with Joe Gibbs Driven to launch the Coach Gibbs Driver Performance program, an option for Spireon's
FleetLocate platform that uses positive reinforcement, recognition and contest-based incentives. Drivers can view scores and rankings through a dashboard on their smartphones and mobile computers. Drivers compete during a defined "season" and are scored on engine idling, acceleration, speed limit adherence and other areas.
Six videos of Gibbs – a former NFL head coach and NASCAR team owner – are embedded in the application to give timely tips on how to improve standings by reducing engine idling and increasing fuel economy, among other areas.
GreenRoad, a provider of driver performance and safety management systems, created a mobile application for drivers to access their safety score, idling rate, team rank and trip details for the past seven days from their Apple iOS or Android mobile devices.
"The app gives drivers an easy way to keep engaged with our GreenRoad program when they're off the road," says Al Lacombe, director of safety and training at Dupre Logistics in Lafayette, La. "Our team finds it easy and convenient to use."
Qualcomm Enterprise Services displays performance information to drivers on its Mobile Computing Platform. By pressing a tab on the touchscreen display, drivers can see their current statistics for idling, speeding, shifting, cruise time and mpg, among other information.
Fleet managers can generate individual scorecards for drivers by date range using Qualcomm's Analytics Manager. The scorecards can show how drivers are performing against their peers as well as the entire fleet. Using the Media Manager application, the scorecards can be sent to the cab as a PDF file for drivers to view.
Predictive scorecards
What if the most revealing information about driver performance cannot be evaluated using a metric or key performance indicator? One company has created an advanced predictive model that fleets can use to detect what they believe is the root cause of accidents and poor performance among drivers – stress from a personal or work-related matter.
The FleetRisk Advisors platform from QES can detect stress in a driver's life by analyzing statistically significant variations across hundreds – even thousands – of data points that fleets collect on drivers.
The FleetRisk model provides fleets with information about drivers who statistically are the most likely to have an accident in the next 28 days. Since the information is predictive, fleets do not use it to score drivers, but to help determine which ones need more attention to resolve concerns they might be experiencing, says Vikas Jain, vice president of Software-as-a-Service for QES.
Because technology gives drivers the opportunity to identify and change behaviors early, there is no excuse or place for them to hide anymore.