General Freight Leaders
General freight at a glance
Number of carriers in CCJ Top 250 124
% of total CCJ Top 250 49.6%
Power units
Total 257,634
Est. change from 2011 2.9%
% of total CCJ Top 250 46.0%
Drivers
Total 298,058
Est. change from 2011 3.3%
% of total CCJ Top 250 43.5%
Trailers
Total 692,209
Est. change from 2011 3.8%
% of total CCJ Top 250 69.1%
Est. revenue change from 2010 12.9%
Top 20
Segment Rank Company Blended Rank
1 YRC Worldwide Inc. 3
2 Con-way Inc. 4
3 Swift Transportation Co. Inc. 5
4 Schneider National Carriers Inc. 6
5 J.B. Hunt Transport Inc. 7
6 TransForce Inc. 8
7 Landstar System Inc. 9
8 Werner Enterprises Inc. 10
9 U.S. Xpress Enterprises Inc. 11
10 Estes Express Lines 12
11 Old Dominion Freight Line Inc. 13
12 Arkansas Best Corp. 15
13 CRST International Inc. 16
14 Crete Carrier Corp. 22
15 Saia Inc. 24
16 Averitt Express Inc. 25
17 Knight Transportation Inc. 26
18 R+L Carriers 27
19 Southeastern Freight Lines 28
20 Ceva Logistics North America 30
Safety violations by general freight carriers in the top 250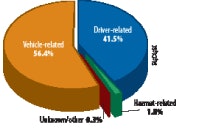 Roadside violations
Most recent 24 months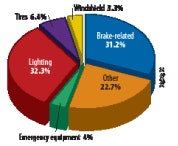 Vehicle-related violations
Most recent 24 months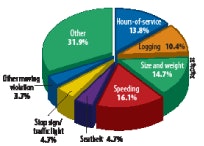 Driver-related violations
Most recent 24 months
Refrigerated Leaders
Refrigerated at a glance
Number of carriers in CCJ Top 250 24
% of total CCJ Top 250 9.6%
Power units
Total 30,093
Est. change from 2011 7.2%
% of total CCJ Top 250 5.4%
Drivers
Total 34,456
Est. change from 2011 4.9%
% of total CCJ Top 250 5.0%
Trailers
Total 54,199
Est. change from 2011 9.4%
% of total CCJ Top 250 5.4%
Est. revenue change from 2010 13.8%
Top 20
Segment Rank Company Blended Rank
1 C.R. England Inc. 18
2 Prime Inc. 20
3 Stevens Transport Inc. 43
4 Marten Transport Ltd. 45
5 Central Refrigerated Service Inc. 59
6 Gordon Trucking Inc. 62
7 FFE Transportation Services Inc. 67
8 KLLM Transport Services LLC 72
9 TransAm Trucking Inc. 88
10 John Christner Trucking LLC 102
11 Watkins Associated Industries 111
12 Navajo Express Inc. 128
13 JBS Carriers Inc. 133
14 National Carriers Inc. 143
15 H&R Transport Ltd. 156
16 Quickway Distribution Service Inc. 160
17 K&B Transportation Inc. 174
18 WEL Companies Inc. 177
19 J & R Schugel Trucking Inc. 183
20 Xpress Cargo Inc. 192
Safety violations by Refrigerated carriers in the top 250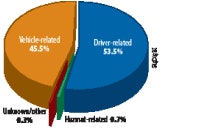 Roadside violations
Most recent 24 months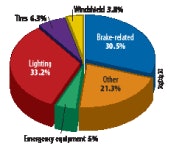 Vehicle-related violations
Most recent 24 months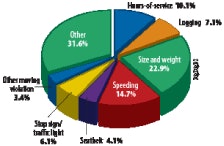 Driver-related violations
Most recent 24 months
Flatbed, specialized and Heavy haul leaders
Flatbed at a glance
Number of carriers in CCJ Top 250 28
% of total CCJ Top 250 11.2%
Power units
Total 28,557
Est. change from 2011 17.9%
% of total CCJ Top 250 5.1%
Drivers
Total 27,812
Est. change from 2011 10.6%
% of total CCJ Top 250 4.1%
Trailers
Total 42,820
Est. change from 2011 6.8%
% of total CCJ Top 250 4.3%
Est. revenue change from 2010 25.9%
Top 20
Segment Rank Company Blended Rank
1 Anderson Trucking Service Inc. 47
2 TMC Transportation Inc./Annett Holdings 48
3 United Vision Logistics Holding Corp. 52
4 Acme Truck Line Inc. 53
5 Mercer Transportation Co. Inc. 54
6 Bennett International Group 58
7 Maverick USA Inc. 90
8 Mr. Bult's Inc. 99
9 Boyd Bros. Transportation Inc. 110
10 Melton Truck Lines Inc. 113
11 PGT Trucking Inc. 119
12 Transport Investments Inc. 122
13 Lone Star Transportation LLC 140
14 P&S Transportation Inc. 147
15 Admiral Merchants Motor Freight Inc. 157
16 Gypsum Express Ltd. 191
17 Williams Bros. Trucking Inc. 198
18 Tennessee Steel Haulers Inc. 203
19 PI&I Motor Express Inc. 205
20 McElroy Truck Lines Inc. 209
Safety violations by Flatbed, specialized and heavy haul carriers in the top 250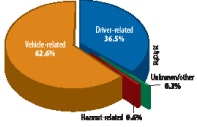 Roadside violations
Most recent 24 months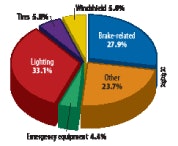 Vehicle-related violations
Most recent 24 months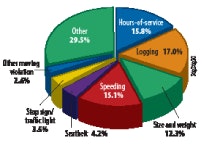 Driver-related violations
Most recent 24 months
Tank/bulk commodities leaders
Tank/bulk at a glance
Number of carriers in CCJ Top 250 31
% of total CCJ Top 250 12.4%
Power units
Total 26,444
Est. change from 2011 2.7%
% of total CCJ Top 250 4.7%
Drivers
Total 29,330
Est. change from 2011 6.3%
% of total CCJ Top 250 4.3%
Trailers
Total 39,287
Est. change from 2011 2.3%
% of total CCJ Top 250 3.9%
Est. revenue change from 2010 13.5%
Top 20
Segment Rank Company Blended Rank
1 Kenan Advantage Group 21
2 Quality Distribution Inc. 37
3 Trimac Transportation 44
4 Groendyke Transport Inc. 105
5 Superior Bulk Logistics 107
6 The Dana Companies 112
7 McCoy Group Transportation Division 115
8 Enterprise Transportation Co. 125
9 A&R Logistics Inc. 127
10 TransWood Carriers Inc. 129
11 Venezia Inc. 135
12 Western Dairy Transport LLC 136
13 Tankstar USA Inc. 150
14 Dupre Logistics LLC 154
15 Tutle & Tutle Trucking Inc. 155
16 Martin Transport Inc. 158
17 Beelman Truck Co. 164
18 American Bulk Commodities 169
19 Bulkmatic Transport Co. Inc. 178
20 Slay Transportation Co. Inc. 182
Safety violations by
Tank/bulk carriers in the top 250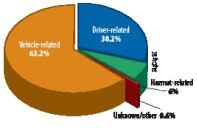 Roadside violations
Most recent 24 months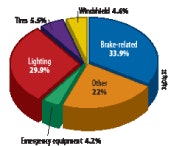 Vehicle-related violations
Most recent 24 months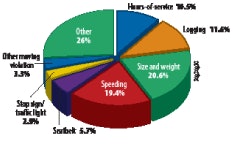 Driver-related violations
Most recent 24 months
Other Segment Rankings
Segment Rank Company Blended Rank
DEDICATED CONTRACT/CARRIAGE
1 Greatwide Logistics Services 17
2 Ryder Supply Chain Solutions 19
3 Ruan Transportation Management Systems 29
4 Penske Logistics 36
5 FirstFleet Inc. 71
6 Cardinal Logistics Management Corp. 74
7 Black Horse Carriers Inc. 121
8 Estenson Logistics LLC 132
9 National Retail Systems Inc. 144
10 Webster Trucking Corp. 181
11 Salem Carriers Inc. 228
12 Dedicated Logistics Inc. 235
MOTOR VEHICLES
1 Allied Systems Holdings 55
2 Jack Cooper Transport Co. Inc. 70
3 JHT Holdings 84
4 Cassens Transport Co. 92
5 Quality Drive-Away Inc. 101
6 United Road Services Inc. 104
7 The Waggoners Trucking 106
8 Hansen & Adkins Auto Transport 165
9 Star Fleet Trucking Inc. 168
10 Fleet-Car Lease Inc. 193
INTERMODAL
1 Comtrak Logistics 56
2 Pacer International 69
3 RoadLink LLC 80
4 Bridge Terminal Transport Inc. 98
5 Kaplan Trucking Co./Horizon Freight System 100
6 C&K Trucking LLC 186
7 California Multimodal LLC 221
HOUSEHOLD GOODS
1 UniGroup Inc. 14
2 Sirva Inc. Moving Services North America 23
3 Atlas Van Lines Inc. 38
4 Coleman World Group 131
5 Wheaton Van Lines Inc. 138
6 The Suddath Companies 159
7 Graebel Van Lines Inc. 170
8 Arpin Group Inc. 172
9 Stevens Worldwide Van Lines 236
PACKAGES/SMALL SHIPMENTS
1 UPS/United Parcel Service Inc. 1
2 FedEx Corp. 2
3 DHL Americas 32
4 Spee Dee Delivery Service Inc. 217
5 Tricor America 220
Source of the CCJ Top 250 data
Data for the CCJ Top 250 is drawn from a combination of surveys of trucking companies and publicly available information, such as the Federal Motor Carrier Safety Administration's Motor Carrier Management Information System and reports ­filed with the Securities and Exchange Commission. All carriers included in the ranking were given an opportunity to review for accuracy data obtained from public sources.
Ranking methodology
Commercial Carrier Journal's ranking of companies is a blended scale based on a combination of revenue, total power units and number of drivers rather than a ranking simply by revenue. Companies considered for inclusion in the Top 250 were ranked from high to low by revenue, power units (weighted based on the type of power unit as discussed below) and drivers and assigned a rank in each category.
The numerical rank stored in each of the three fields was added together (revenue rank + vehicle rank + driver rank) to provide a rank sum. This sum then was ordered to provide the overall ranking assigned to each carrier, with the lowest sum receiving the highest rank.
A number of carriers failed to report actual 2011 revenue. In order to be included in the blended ranking,they were assigned – for blended ranking purposes only – a calculated revenue figure. This calculated revenue was based on the following:
If the carrier had provided actual revenue in 2010, revenue growth was determined for carriers operating in the same industry segment that provided both 2010 and 2011 revenue. The bottom 50 percent of performers then were isolated, and an average performance of that group was calculated. The result was applied to the 2010 revenue to determine calculated revenue for that carrier failing to report actual revenue.
If the carrier had not reported revenue for 2010, its 2011 revenues were calculated by multiplying the carrier's total number of power units by a segment-specific revenue total per power unit. Revenue per power unit was calculated for all revenue-reporting carriers in that segment. The average of the bottom 50 percent of performers then was multiplied by the nonreporting carrier's power units to achieve a calculated revenue figure.
Calculated revenue is discounted by using the average of the bottom 50 percent of performers so that carriers failing to report revenue are not given an undue advantage in the ranking. Calculated revenue will be different by some amount from actual revenue, but it is anticipated that for its part in the blended ranking the difference will be slight.
The power unit ranking, which represents an investment as much as a physical-count measure of trucking assets, took into account the difference between tractors and trucks. The assumption is that a for-hire carrier with 1,000 tractors has a greater investment in equipment than one with 1,000 straight trucks. For the purpose of the blended rank, a truck was weighted at half the value of a tractor.