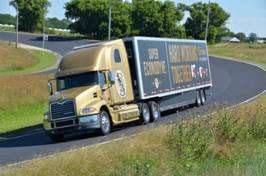 Mack Trucks on Tuesday, Aug. 7, unveiled a suite of driver-focused enhancements for its Pinnacle highway models designed to improve comfort and productivity. The new interior enhancements include:
• An optional center storage console, located between the seats in Pinnacle Day Cab models, that provides nearly one cubic foot of convenient space for large-item storage. The console includes interior lighting and a 12V power supply;
• Optional ambient red floor lighting, subtle or indirect, for use at night when driving or when stationary. Either the driver's footwell area or the entire floor can be illuminated;
• A standard "dead pedal" for the driver's left foot to maximize comfort while driving and to help the driver maintain an ergonomically correct seating position;
• A standard dash-mounted ergonomically designed single DIN Mack mDrive automated manual transmission shifter keypad;
• Improved functionality for Mack PowerLeash+ Engine Brake controls, standard on all models, enabling the driver to set and maintain a target downhill braking engagement speed, in or out of cruise control. When equipped with mDrive, the new MaxBrake function on the transmission's keypad uses mDrive's downshift strategy to automatically keep the engine in its optimum rpm range for maximum engine braking efficiency;
• A remote in-dash sleeper auxiliary HVAC switch, allowing the driver to pre-warm or pre-cool the sleeper from the driver's seat while the truck is in operation. This feature is standard for 70-inch and 60-inch sleepers and optional for the 56-inch and 48-inch sleepers; and
• Self-cancelling turn signals, which are standard on trucks and optional on tractors.
"Driver retention is critical, and one way to positively impact that is to improve driver comfort," said Jerry Warmkessel, Mack highway marketing manager. "A comfortable driver is also a more productive, safer driver. We listened to what our customers told us they wanted in their cabs, and we're delivering it with this series of interior enhancements that result in a more comfortable, productive cab environment."
In 2011, Mack introduced other interior enhancements to the Mack Pinnacle series, including an optional one-piece windshield and an updated Grand Touring trim package with button-tuck vinyl and ultraleather seats at no extra charge over the previous trim offering.