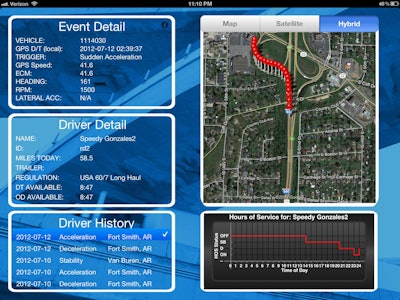 While the adoption of the iPad, iPhone and Android devices is widespread among consumers, these platforms are not primed for use in a rugged trucking environment and for mission-critical applications, said Randy Boyles, PeopleNet's vice president of Tailored Solutions, during the company's annual user conference on Tuesday, Aug. 7, in Boca Raton, Fla.
These smart devices are exceptional for displaying information, particularly to fleet managers that want to receive alerts with more immediacy and detail than through regular e-mail or a Web browser, Boyles said.
On this premise, PeopleNet, a provider of integrated onboard computing and mobile communications systems, has announced a new management app that provides fleet managers with critical event alerts to their smart devices within seconds based on data from multiple sources.
"There is a tremendous amount of safety and maintenance-related information available through PeopleNet reports," said Boyles. "However, we understand that there are events that require immediate attention rather than waiting to review reports. We are taking advantage of smart-device technology's notification features to develop this safety app for helping customers avoid potential safety incidents and better protect drivers and the public."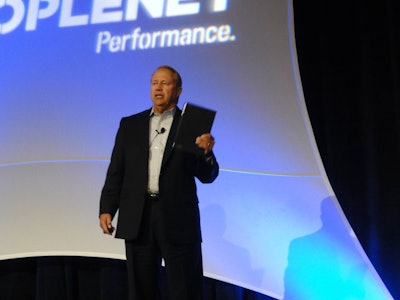 PeopleNet' decided to develop a safety app for the iPad first, with apps for the iPhone and Android to follow. The app, called EventAlerter, now is available with a queue that includes a maintenance app, featuring fault code and tire pressure alerts, and a vehicle location and messaging app that allows executives to check up on key concerns with drivers.
"We recognize that our first foray into this is the tip of the iceberg," Boyles said.
The PeopleNet system sends an alert to registered smart-device users. When the alert is received, the user can access all relevant event data that surrounds the event. An alert triggered by a rollover-stability or sudden-deceleration event, for instance, would provide a satellite map view of the incident, the identify of the driver and details that include the time, speed, heading, trailer and miles driven today, along with the driver's available hours of service, pre- and post-incident trails and the last five safety events to assess the emergence of a negative trend.