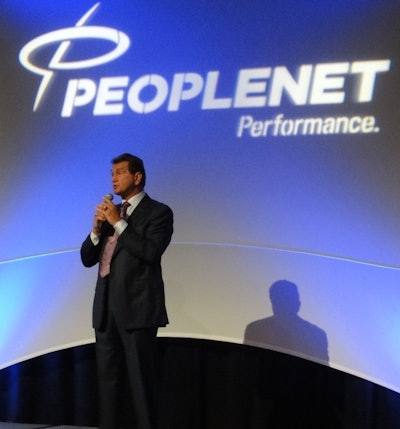 In 1985, Washington Redskins quarterback Joe Theismann was near the pinnacle of his career. He led the team to victory in Super Bowl XVII during the 1982 season. The next year, the Redskins won the NFC championship and Theismann won the league's most valuable player. He was earning $1 million a year, making him the fourth highest paid player in the NFL.
"I was great, or at least in my mind I had become great. The entire world revolved around one thing, Joe Theismann. But truthfully, what I had become was the single most despicable, egotistical maniac to ever walk the earth," he told a gathering of fleet executives and managers at the PeopleNet User Conference held in Boca Raton, Fla., on August 7. "I was bad. I didn't need anybody. I was the star."
His career began to unravel in 1985. The Redskins started the season 4-4 and then came the turning point of his career and life. On Monday, November 18, at 10:05 PM, he received the play call from the sidelines of RFK Stadium–a flea flicker. After taking the snap, Theismann handed the ball off to the fullback who then turned around and pitched it back to Theismann. His main receiver, Art Monk, was covered. Giants linebacker Lawrence Taylor broke through the line and grabbed his left shoulder. "His leg caught mine," and the rest is history.
Looking back on that experience, Theismann says it happened for a reason. He remembers the standing ovation from the crowd as he was carried off the field in a stretcher.
"Fifty five thousand people stood up and gave an ovation that I've never heard before and said thank you to a man who thought he needed no one," he said. "The good Lord has a way of coming into our life. He set up something so I was not going to forget that evening."
Theismann said that after the injury he took a $935,000 pay cut. If he was going to be successful from that point on, he would have to earn a life in business. "When you take a $935,000 pay cut, your attitude suffers," he said.
Theismann shared some valuable lessons from his life, most of which seemed like common sense, but with his passionate delivery the audience of 850 PeopleNet customers and vendor partners rewarded him with a standing ovation.
Goals, attitude, enthusiasm and confidence are among the most essential traits for success. He said confidence has three elements: anticipation, education and hard work. "Once you get confidence, it gives you a chance to do something, to take a chance." He challenged the audience to be confident and ask themselves how they can make a difference in the industry and make it better.
"If you get excited, people around you get excited. Great orators get elected to office, but are not the best people for the job. I'll leave it at that," he quipped.
His speech was not all about success in the workplace, however.
"We may think our job is so important that family takes second place. I'm tired of hearing, 'But I'm doing it for you.' That is the biggest crock of baloney in the world. A valued life is a balanced life. I lost a family because of it. That was my excuse, that was my story. You have to take the time. If you can get to the last quarter of a basketball game or soccer game, you get there. You will never have that moment back."
In summary, Theismann said that a saying he keeps on his desk reminds him of what life is really about, even if it took a fractured leg and a pay cut to help him learn it: "People don't care how much you know until they know how much you care."