Technology leads fleets' efforts to diversify their service
By Aaron Huff
Two years ago, Rocking T Transportation still was hauling cattle exclusively. But when its largest customer decided to start a private fleet, company president Brent Shilling had 90 days to act before the contract expired.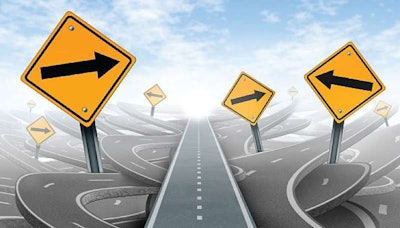 Shilling purchased a fleet of reefer trailers and solicited customers in the meat industry for freight. A few months later, he bought pneumatic tank trailers and began hauling frac sand to oil fields for drilling.
The new refrigerated and oilfield operations recaptured the lost revenue from the cattle haul, but they also created an information void. As a cattle hauler, Amarillo, Texas-based Rocking T had been making one-stop deliveries to a small number of locations. It now had to manage multistop loads, irregular routes and unexpected delays at shipping and receiving locations. Having real-time visibility of drivers and assets became critical.
As part of the transition, the company implemented PeopleNet's mobile communications and onboard computing system. Through a real-time interface with its SSI Power Pro dispatch software, Rocking T is operating more efficiently than ever with 25 pneumatic tankers and 50 reefers added to its scaled-back fleet of 15 cattle trailers.
In hindsight, losing the contract turned out to be a blessing in disguise for Rocking T. "When we were relying on one commodity, any market fluctuations in volume would really upset our daily business," Shilling says. "Now we are able to better balance between commodities."
Whether a fleet decides to diversify its operations in the aftermath of a crisis or as part of an ongoing strategy, technology will be as critical to success as any investment in equipment and infrastructure.
Where to go?
During his keynote address at the ALK Transportation Technology Summit last May, Derek Leathers, president and chief operating officer of Werner Enterprises, said transportation companies must evolve continually to survive.
"When we were relying on one commodity, any market fluctuations in volume would really upset our daily business."
– Brent Shilling, president, Rocking T Transportation
Werner Enterprises has grown from a truckload carrier into a global logistics provider with $2 billion in revenue and $103 million in annual net income. While the company has 7,300 trucks and 23,000 trailers to move freight, equipment is not its only asset in demand. Werner also has grown by using technology to move freight for its customers in these areas:
• Freight management. Using third-party logistics services to increase efficiencies;
• Global implementation. "The days of competing for a customer with regional or national coverage are gone," Leathers said. To be considered relevant to a shipper with a big freight network, transportation providers must manage freight on an international scale; and
• Technological advantages. Using technology to design freight bids and add comprehensive logistics solutions that create additional value for customers.
In addition to adding technology to grow nonasset transportation services, carriers continue to find ways to diversify their operations to enter new markets with more robust growth potential.
The American Trucking Associations, in collaboration with IHS Global Insight and Martin Labbe Associates, recently published a "U.S. Freight Transportation Forecast to 2023" report that predicts freight volumes will be fairly robust from 2012 to 2017. Using 2011 as the baseline, general freight tonnage will increase at an average annual rate of 3.6 percent and bulk freight at 1.8 percent.
Traditional manufacturing is expected to exceed prerecession levels by 2015, with the strongest growth in aircraft and parts (8 percent); stone, clay, glass and lumber/wood products (6.0 to 6.5 percent); and motor vehicles and parts (5.6 percent).
The report predicts average annual less-than-truckload growth of 7.6 percent and sees LTL carriers benefiting from an expansion of online shopping and nonstore retailing at twice the pace of traditional retail store sales.
Direct to home
Southeastern Freight Lines, a Columbia, S.C.-based LTL carrier, is one such company that continues to diversify its technology and equipment and stays on the forefront of new trends. One example is how the company is responding to the increase in home deliveries from online retailers and manufacturers.
"It's becoming a bigger portion of our operation simply by default," says Braxton Vick, senior vice president of corporate planning and development. "If we are hauling freight out of a shipper, whether we are delivering it direct to a home or to a store, we want to handle it."
Home deliveries account for 7 percent of shipment volume today and will continue to grow, Vick says. SEFL is adding more liftgates to its trailer fleet, buying smaller equipment to optimize residential delivery and developing new technology tools.
The company has been using onboard computers since 1991 to track pickups and deliveries in its network. Traditionally, it has used the data captured at pickups and deliveries to update customer business systems through electronic data interchange and its customer-facing Website.
With the increase in home-delivery customers, the number of users visiting the Website with smartphones and iPads has increased significantly. Customers also want more information, such as when their shipment will be picked up, current status and potential delays. SEFL has developed mobile apps (www.sefl.com/mobile) to provide this information in real time.
"We are reporting when a shipment hits the street and the estimated time of delivery within an hour," Vick says. "That information is available to shippers and receivers. That was unheard of a few years ago."
Home deliveries also require more coordination with consignees. Unlike business deliveries, homeowners always are not available from 8 to 5. To help with scheduling, SEFL has implemented a planning system to meet service requirements, minimize costs and maximize time savings, such as reducing the number of left-hand turns.
Third-party logistics providers have given SEFL another opportunity to diversify its technology. Unlike a shipper, a 3PL is not physically at the location where freight is picked up.
Instead, it works behind the scenes with a transportation management software system to generate pickup requests to carriers automatically when consignees purchase goods from a shipper.
Since 3PLs are removed from the actual freight, many depend on carriers to provide additional reporting about shipment status, especially when a pickup does not go as planned. Pickups are missed for various reasons, such as a shipment not being ready or a facility being closed when the driver arrives.
SEFL developed an internal process that flags shipments from 3PLs. Dispatchers call a pickup location in advance of a driver's scheduled arrival. Drivers also can use an application on their onboard computers to note why they missed a pickup.
SEFL sends exception messages to its 3PL customers using EDI. The company has worked with ATA to publish a set of EDI standards that carriers and 3PLs can use to automate pickup exception messages.
"We not only report on what is moving, but what is not moving," Vick says. "It is growing pretty substantially right now."
Driving integration
Flatbed heavyweight Maverick Transportation also has diversified in recent years. In 2006, the Little Rock, Ark.-based company purchased Schneider National's specialized glass hauling division, a transaction that brought new equipment, customers and commodities into the business.
After the economic downturn that began in 2007, Maverick made more strategic efforts to diversify outside the construction and automotive industries. The company uses software from a variety of vendors, and in most cases, its current systems easily were able to accommodate the new information needs of its increasingly diverse business lines, including rates, billing and equipment.
In 2010, Maverick entered the temperature-controlled business. From the start, the decision has impacted the company's information technology needs due to the addition of a trailer monitoring system that added a new set of data to manage, including engine hours, fuel levels and temperatures.The system also features two-way communications with the trailer for remote control of engine starts and stops, as well as the ability to change temperature settings.
While the fleet currently uses its vendor's Web portal to communicate with its trailers, the goal is to integrate the remote-control features into its ICC operations software system. Through this integration, Maverick could automate temperature settings based on the dispatch information of commodity type and customer requirements.
Today, Maverick has 150 trailers in its temperature-controlled division and plans to continue growing. Somewhere along the way, automation will become critical.
"We want to automate, but our software vendors seem less willing," says Wayne Brown, vice president of information technology. Maverick's vendors do not see enough market demand from other users to have integrated reefer controls – at least not yet.
"Integration is a big piece of how we've been successful," Brown says. "When you diversify, you can't let that data live in a silo. It can't be a separate view."
Ramping up value
Last year, Houston Vaughn and other executives at Birmingham, Ala.-based P&S Transportation faced a big decision. One of its largest customers planned to outsource its transportation management to a third party. Under this arrangement, P&S Transportation no longer would be working for the customer – but for somebody else.
"We made the decision that we want to work for ourselves," says Vaughn, chief operating officer. But the 1,020-truck flatbed carrier had to offer more than transactional brokerage services; it also needed the ability to manage the customer's freight bids, load tendering and other steps in the overall capacity procurement process.
P&S Transportation already was using McLeod Software's LoadMaster system for dispatch, accounting and other enterprisewide functions. By adding McLeod's Web-based Freight Management System, the company was able to transition into a full-fledged 3PL.
Within 45 days of deciding to start a 3PL business, P&S Transportation created a new company, Sellers Logistics, which has the necessary technology to make a proposal to the customer and develop a freight bid for other carriers.
The proposal from Sellers Logistics came with an added guarantee that the customer would have all the capacity it needed. If the customer has a hot load from Birmingham to New York and Sellers Logistics is not able to find a truck during the load tendering process, P&S Transportation will haul it.
"We leveraged our fleet to back up what we were saying that customers will not have a capacity problem," Vaughn says. "That is something kind of unique."
While the FMS technology provides a value-added service to customers, it also saves carriers money; carriers that work with Sellers Logistics have an automated load tendering process based on their volume commitment.
"The carrier knows it will receive load tenders without worrying about who took their client out to lunch," Vaughn says. All accounting and back-office functions of Sellers Logistics are integrated with the LoadMaster system to create efficiency.
Staying separate
One decision that companies have to make with regard to an expanding menu of transportation services is if they will share IT resources among their separate entities.
About 1½ years ago, NFI Industries merged its three transportation divisions – over-the-road, dedicated and brokerage – into one group. The full-service logistics provider operates 2,300 trucks total, but not all of its assets are being managed from one system; NFI currently uses 12 different software systems, some of which are homegrown, to manage its diversified business.
In the next month, the Cherry Hill, N.J.-based company plans to begin moving all of its services to one platform, TMWSuite from TMW Systems, a process it says will take about two years. Visibility will be one of several benefits of running on a single platform; users quickly can identify and execute opportunities to increase profits, such as finding more backhauls for its dedicated fleet.
"Getting that information now is a struggle because it is spread across different systems," says Scott Benton, chief information officer. As part of the conversion process, NFI plans to use TMW's data warehouse tools to make the information more accessible to end users. "Right now we have some people who are really good at pulling data out of multiple databases and crunching it in spreadsheets, but that is not the most efficient way," Benton says.
A concern of sharing IT resources is avoiding any risk of having more than one company at a time being involved in any segment of a freight transaction through improper application of those resources.
Any freight brokerage company that brokers a load to any carrier involved in an accident runs some risk of also being sued by plaintiffs for negligent entrustment. If the freight brokerage company also shares office space, IT and other resources with an affiliated trucking company to which it brokers a load, and that carrier is involved in an accident, plaintiff attorneys may try to claim that both companies are liable independent of any issues of negligent entrustment, though the relative strengths and weaknesses of any such allegation ultimately turn on any number of factors.
Eighteen years ago, a customer of Gordon Sevig Trucking Co. needed warehousing space. The Walford, Iowa-based fleet saw an opportunity to create a new business, GSTC Logistics, which today operates an 800,000-square-foot facility. The two companies serve many of the same customers but operate independently and on arm's-length terms.
In July, the family-owned company saw another complementary business opportunity in freight brokerage and logistics services and created GSTC Transportation Services. In one month, the new brokerage division has increased from one to four employees.
Like GSTC, the brokerage company licensed the TMWSuite enterprise transportation management software from TMW Systems. The trucking and brokerage companies maintain their databases separately and apart from the other, including their accounting and financial information, just as would be the case between any nonaffiliated broker and carrier the two companies contact for business needs.
One could argue that integration of these IT resources and information could help increase efficiency, but in the present business and legal environment, "we chose not to do that," says Tom Schmidt, GSTC general manager. "That's the better approach today."
Similarly, when GSTC gets an order from a customer that uses GSTC Logistics for warehousing, the order is treated the same as it would be for any other carrier. "GSTC Logistics calls GSTC for a pickup from the warehouse," Schmidt says.
The technology a fleet has might satisfy its needs today, but can it be adapted to changes quickly when deciding to enter a new market and compete for new business? Or will it become extinct?