Severe-duty disaster relief
First Response Team lends heavy-lifting hand
Tad Agoglia and his crew arrived at what was left of Haiti within a week of the 2010 earthquake that left large swaths of Port-au-Prince in shambles. The team used their Cat excavator and Peterbilt dump truck to clear rubble for a medical clinic, and along the way Agoglia was struck by the opportunity to fill a vast need. "I began to realize no one organization can fix everything, but it's extremely important we all make a contribution," he says.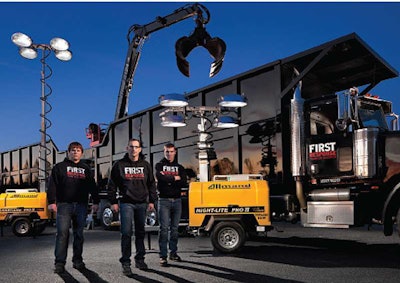 For nearly five years, that's been the essence of Agoglia's charity work with his First Response Team of America (firstresponseteam.org). In 2007, after a tornado tore through Greensburg, Kan., Agoglia used heavy equipment from his own for-profit hurricane cleanup contracting business to help residents and business owners in ways other organizations couldn't.
"I saw a need for heavy lifting," Agoglia says. "I wanted to take what I had and see if I could assist." By 2009, after serving as first responders on the scene of at least 18 storms, the First Response Team officially became a nonprofit. Companies like Caterpillar, Peterbilt and chainsaw maker Stihl began donating critical equipment for Agoglia's efforts.
Agoglia is adding equipment owners and truck drivers from his Pennsylvania hometown to the First Response team of seven people.
– Amanda Bayhi
Power, versatility in refuse truck line
Freightliner Trucks brought its line of severe-duty trucks spec'd for the waste-haul market to the WasteExpo show in Las Vegas, Nev. Featured trucks included:
• The new 114SD compressed natural gas-powered truck with a McNeilus 25-yard rear loader body;
• Two 114SD diesels, one with an Amrep roll-off and the other with a SwapLoader SL-505 hook lift/20-yard container;
• The 108SD with a 25-yard Heil rear loader; and
• A Business Class M2 with a stand-up right-hand drive conversion and an Automizer automated side loader body.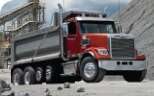 "The waste industry is changing," says Mark Faro, Freightliner's vocational segment manager for product marketing. "The private market wants productivity, and the government market is focused on versatility, but everybody has to be smart with their purchases in today's economy. These are versatile hard-working trucks."
As an example, Faro pointed to the SwapLoader hook lift upfit outfitted by Western Truck Fab in San Francisco. SwapLoader Sales Manager Matt White says the configuration gives the

114SD the ability to handle "unlimited applications. It can pick up a construction site waste container in the morning and haul a water sprayer or a sander in the afternoon."
Paccar MX tough-tested with aggregate hauler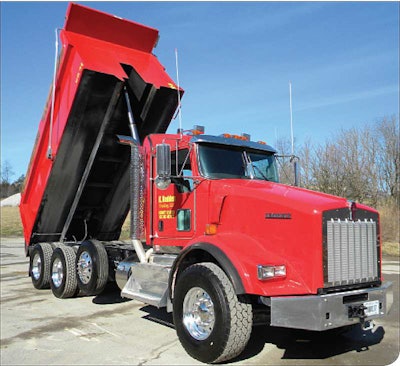 Keith Redden's retirement dream was to start a trucking firm. "I said if I owned six trucks, I could make a living," Redden says. Since starting in 2003 with three used Kenworths from a home base in Floyd's Knob, Ind. (across the Ohio River from Louisville, Ky.), his K Redden Trucking is up to 24 power units. "I enjoy it more every day," he says.
In 2005, Redden began purchasing new "top-of-the-line Kenworth T800s," he says. "We're known for having the best fleet of dump trucks in the area, and the best drivers." Redden attributes his 2011 revenues of $2.5 million, a 10 percent increase from 2010, to those drivers – and the new Paccar MX engine.
Hauling asphalt and aggregate for highway construction, as well as road salt in winter, the T800 dumps are spec'd with the 455-hp MX, Eaton UltraShift Plus transmission, Dana 46,000-pound rear axles, Alcoa aluminum wheels, Bendix front air disc brakes and the Kenworth extended day cab with premium interior. The new powertrain has netted a fuel mileage bonus of 0.6 to 1 mpg over his older T800 dumps, or a 15 percent gain at the top end, he says.

"Some of our MX engines have 40,000 miles on them now," Redden says. "We've had no problems at all."
Redden, who is both the back-office administrator and shop foreman, says his trucks' reliability has been a big boost to the business' viability. "Our trucks don't break down, and our customers like having good-looking reliable trucks on their jobsites," he says.
Mobile CNG filling stations
CNG station builder Vocational Energy (vocationalenergy.com) introduced its Portable Fueling Station at the Waste Expo show in Las Vegas, Nev. "What's white and green, can fuel up to eight garbage trucks simultaneously and arrives by a standard roll-off truck?" the company asked in its press release. The answer was the PFS, displayed in the company's booth.

Clean Energy's IMW Industries launched a similar mobile station last year. Even as the natural gas fueling infrastructure rolls out this year and beyond at truckstops around the nation – part of it spearheaded by Clean Energy in a partnership with Navistar and Pilot Flying J – both companies see potential in natural gas powertrains for waste and other local/regional vocational applications.
The Vocational Energy PFS "allows fleets that operate CNG vehicles a way to fuel at their location without a traditional 'brick-and-mortar' station" and could extend to over-the-road terminals in the future as natural gas powertrains gain traction, the company says. Vocational Energy is hoping its PFS gives companies incentives to move more quickly to natural gas power.
"We designed the PFS to be transportable by a standard commercial roll-off truck, something that most refuse fleets already have in their inventory," says Scott Edelbach, Vocational Energy president, who noted that customers wouldn't have to incur the additional expense of driver training or special vehicles to deliver or move the PFS; it simply attaches to a customer's existing natural gas service and electrical power. The unit is capable of fueling up to eight vehicles simultaneously.
The PFS also can be rented through Big Truck Rental as a temporary fueling solution, says Edelbach, noting that the rental niche is designed to service those customers who want to begin using newer CNG-fueled trucks while their stations are under construction.
FEATURED PRODUCTS


Rugged smartphone accessories
Mizco International's line of heavy-duty professional-grade mobile technology accessories has expanded from Bluetooth headsets to include new Bluetooth earpieces, smartphone cases, portable power solutions and in-car gooseneck mounts. In developing the line, the company took into account the testimonials of professional drivers.
Mizco International, mizco.com

Goosenecks increase payloads
Choose from 60,000-, 75,000- and 90,000-pound-capacity models of Trail King's Mechanical Detachable Gooseneck trailer, and bank weight savings to increase payloads by 750 to 1,000 pounds over previous models. The MG offers aluminum crossmembers and outer rails as standard equipment on the upper deck and wheel area with four steel main I-beams constructed of one-piece web and flange material welded tight on all sides. Additional features include a reinforced gooseneck, removable gooseneck rollers, adjustable ride height control and an air-activated self-locking gooseneck pin.
Trail King, trailking.com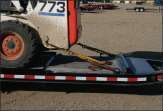 Jobsite 101:
Equipment tie-down tips
Distribute the load equally on all axles/tires. When securing the load, chains should pull either in or out and never in the same direction. Always use designated D-rings or tie-down loops. When using stake pockets, drop the hook and chain through the pocket and come back up and hook on the top side. Never use a fender or frame lip, as the tie-downs could shift and the structure may not support the load.
Regularly inspect chains and binders for wear. Never use a chain that has been welded or has a quick link. Also, make certain any chain is rated for the capacity you are hauling.
Check the load after the first 100 miles on longer hauls to make certain it hasn't shifted. Look for loose tie-downs/chains, and check tire pressures; if pressure is low, bouncing could loosen tie-downs. Also check the load every time you stop.
RigDig takes guesswork out of buying used trucks
RigDig says its truck history reports help fleet managers, dealers and owner-operators make informed used truck purchase decisions. By logging onto www.rigdig.com and typing in a truck's vehicle identification number, truck buyers and sellers can get critical information to help make smarter buys in an easy-to-use report.
"RigDig marks the first time buyers can check a truck's background using a service designed specifically for the commercial truck market," said James Vogel, general manager. "By meshing a variety of data sources that track junk and salvage vehicles, total loss insurance claims, title and odometer brands, accidents, inspections, ownership, cargo hauled and CSA scores, RigDig gives truck buyers a level of confidence in making purchase decisions that's unprecedented."
RigDig was developed by the researchers at Equipment Data Associates, a division of Randall-Reilly Business Media & Information that has been compiling equipment-related information in trucking, construction and other industries for more than 20 years.
Beginning in 2008, the experts at EDA, in conjunction with Randall-Reilly's Trucking Media Group, conducted more than 50 in-depth interviews with companies operating in the trucking industry, analyzed every facet of the vehicle history reports designed for the consumer vehicle market, and determined that there wasn't a good source of information available for consumers on used commercial vehicles.

"That put us on a mission to arm the used truck buyer with information to help them make a more informed purchase decision," Vogel said. "Three years later, after building, acquiring and partnering with the best information sources available, we were ready to launch RigDig."
RigDig reports can protect the used truck buyer from making bad investments by alerting them when the truck may be:
• A junk or salvage yard vehicle. Through RigDig's partnership with the Department of Justices' National Motor Vehicle Title Information System, RigDig can alert buyers to trucks that may have shown up at a junk or salvage yard. Often, junked vehicles are rebuilt, but these rebuilt vehicles always aren't identified with a "Rebuilt" title brand. Also, VIN cloning is a white-collar crime that begins by using VINs from junked vehicles. RigDig helps protect the consumer from purchasing, selling or insuring a VIN cloned vehicle;
• A total loss insurance claim. Also provided through RigDig's integration with NMVTIS, RigDig can help the used truck buyer know if a vehicle was written off as a total loss before they buy or sell;
• DMV title brands, such as junked, salvage or flooded. RigDig's partnership with the Department of Justice's NMVTIS database allows RigDig to deliver title information in real time. This can protect the consumer from purchasing a vehicle that was just stamped with a "Salvage" brand earlier in the day;
• Involved in a federally recordable accident. These are the most severe accidents that resulted in an injury, fatality or towaway. RigDig's database includes more than 639,000 federally recordable towaway accidents for Class 3-8 trucks (for valid VINs) since 2000. Of these accidents, more than 23,000 resulted in a fatality;
• Involved in a less-severe nonfederally recordable accident. These are identified through a post-accident inspection. RigDig's database includes more than 139,000 post-accident inspections for Class 3-8 vehicles since 2000;
• Improperly maintained. Multiple inspection or out-of-service violations identified in a RigDig report may indicate poor vehicle maintenance that could make the vehicle less safe or result in higher repair costs. RigDig users also can learn the safety rating, Compliance Safety Accountability vehicle maintenance status, the name of the carrier/owner of the vehicle and the type of operation in which it was used. Carriers with nonsatisfactory safety ratings may not maintain their vehicles as well as those with satisfactory ratings. Vehicles involved in severe-service applications may have seen years of hard use;
• Modified or altered. RigDig reports also provide a truck's original factory specifications so users can see if a truck has been modified before they take it as a trade-in or purchase it at auction; and
• Tied to UCC liens. Buyers also can check to see if any Uniform Commercial Code liens were tied to a truck's VIN.
A single report can be purchased for $34, and a pack of three reports can be purchased for $60. Also, there are monthly subscription plans available for dealers, fleets, insurance companies, finance companies, warranty companies or any other company or individual whose business is impacted by used-truck purchase transactions.