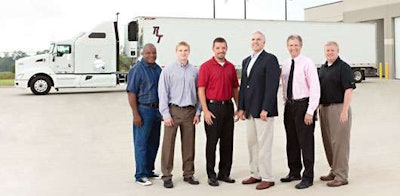 Great Dane announced that its new refrigerated trailer plant in Statesboro, Ga., recently celebrated the completion of the facility's first customer trailer produced to order in a commemoration ceremony with the trailer's new owner, Rowland Transportation of Dade City, Fla. The first customer trailer is an Everest TL refrigerated trailer, which features a wide range of advanced construction features designed to maximize the trailer's performance and operating efficiency.
"Great Dane has been a leader in the field of refrigerated transportation, which is why my family has used them for 70 years," said Doc Hyder, president of Rowland Transportation, which consists mainly of hauling refrigerated food products throughout the country, with a focus on the Southeast region. "Our relationship with Great Dane goes back to the 1940s when my great-grandfather hauled fresh produce out of Florida and North Carolina to Boston, using wet bed ice bunkers to keep the product cool."
Great Dane's Statesboro facility encompasses 450,000 square feet including office space and a 3,000-square-foot climate-controlled noise-free customer preview center. The facility is dedicated to manufacturing Everest refrigerated trailers, the TL model reefer for truckload carriers and the CL model reefer built especially for the unique needs of multitemp and foodservice operations, especially those in the Southeast.
"It's exciting to see customer trailers rolling off of our assembly lines here in Statesboro," plant manager Kevin Black said. "We've made tremendous progress since opening our doors earlier this year – all made possible due to the hard work of our dedicated plant employees and community partners."
Joining a network of nine strategically located Great Dane manufacturing plants, the Statesboro facility uses robotic welding, automated production processes, computer-controlled foaming operations and an optimized material handling system for quality and efficiency. In accordance with Great Dane's pledge to keep its environmental impact as low as possible, numerous green initiatives are in place, including energy-efficient lighting and the use of a building management system to automatically control lights, air quality and building temperature; programs to reduce water consumption; and the use of load monitors to ensure optimal energy consumption.
The Great Dane manufacturing plant in Statesboro currently is operating with one production line, with a second line and second shift to start up later in the year. At full capacity, the new facility will produce more than 5,000 trailers annually, employing more than 400 workers.