Making the latest technology developments work for your fleet
By Aaron Huff
Hitching a ride to the cloud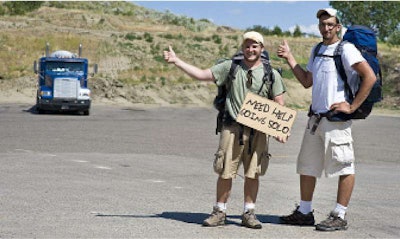 Outsourcing gives contractors, fleets more choice with less risk
Fleets with independent contractors have to be careful in how they manage driver relationships. Any missteps could result in tax agencies clamoring over the status of their ICs. By reclassifying them as employees, agencies can collect large sums of payroll taxes in arrears.
In the eyes of the law, control is the central issue. Fleets can require their ICs to meet certain standards for service, safety and compliance. Some have crossed the line by exercising too much control over the products and services that contractors use, such as company lease programs, maintenance, fuel and insurance.
All fleets have a vested interest in the success of their ICs, but drivers often are hampered by a lack of skills, training and experience in how to run a business. Knowing how and when to offer assistance can be a delicate balancing act. "We try to be helpful in every way we can," says Tom Kretsinger Jr., president of American Central Transport, a Liberty, Mo.-based dry-van carrier. "We give coaching if they want, but it's up to them to choose it."
Less risk: Fleets and contractors stay at arm's length.
Real-time consulting: Technology keeps drivers in the loop.
Vested interest: Fleets depend on contractors' success.
ACT monitors compliance, safety and performance data collected from onboard computers for its fleet of 200 contractors. Signs of low fuel economy and drops in earnings and mileage may signal a manager to contact a driver and offer to help, but Kretsinger believes that the more services you can outsource, the better. "I like outsourcing," he says. "We have some drivers that lease their trucks from a different source. They all make their own decisions. We try to provide them an avenue, and they choose to take it."
A number of companies specialize in giving drivers business training, consulting, equipment and other services to help them succeed while protecting fleets from the litigation risks of having an IC business model.
Equinox Owner-Operator Solutions has more than 12,000 active IC customers using its mobile and cloud-based software systems to help operate their businesses. Equinox is owned by OnRamp Transportation Services, which specializes in providing low-mileage tractor and trailer leases to independent contractors.
Through agreements with fleets, the company uses its cloud-based software to extract settlement, fuel mileage and other performance data from back-office information systems. Equinox uses this real-time data feed to provide drivers with business consulting.
"We try to provide [drivers] an avenue, and they choose to take it."
– Tom Kretsinger Jr., president, American Central Transport
Equinox monitors up to 200 data points on drivers who receive information in a readable, intuitive format by using the company's Android mobile app and Website. As exceptions such as low mileage or pay occur, drivers receive automated alerts; they also may receive a call from an Equinox employee trained to coach drivers on how to operate more profitably.
Equinox recently opened a new virtual mailbox service for drivers to have their mail sent to the company's office to be opened, scanned and sent to them online. The company plans to add the capability for drivers to authorize and pay bills electronically.
Equinox also has about 100 online training programs that drivers can access through Equinox University. Courses include how to use a profit-and-loss statement and increase fuel efficiency. The company also offers low-cost income tax preparation and incorporation services.
When fleets allow Equinox to extract data, it can compare the profitability of its IC clients versus nonclients within the same fleet. Equinox clients average about 60 percent more profit, says Spencer Angerbauer, president of OnRamp.
Contractor Management Services also has a full suite of tools for fleets and ICs. Drivers that use its Web-based IC Power system can store insurance policies, operating authority and other qualifications. IC Power interfaces with Equinox to give drivers access to its business services.
A new CMS program, IC Direct, will allow drivers to advertise their services to motor carriers. Motor vehicle records, background checks and training will be visible to carriers, which can negotiate with drivers online and sign contracts electronically.

While fleets may have the internal resources to assist ICs, outsourcing might be a less risky and perhaps more effective way to provide drivers the services they need to succeed.
Aaron Huff is Senior Editor of Commercial Carrier Journal. E-mail [email protected] or call (801) 754-4296.
Xata changes name to XRS, debuts new all-mobile platform
Xata Corp. last month changed its name to XRS Corp. and introduced an all-mobile platform of the same name for trucking compliance, performance and fleet optimization. "We've always been at the forefront of developing technologies and services that have brought the power of science to the trucking industry," says Jay Coughlan, chief executive officer of XRS, which stands for Xata Road Science. "Now, we've pioneered mobile fleet optimization, a

revolution that's literally putting the power of technology in every driver's hand. Our new name honors Xata's proud history while reflecting our breakthrough new mobile technology."
The company's name change is driven by its new all-mobile platform designed to help fleets and drivers capture data to remain compliant and slash costs. XRS said the company's eight years of success and more than 50,000 mobile subscribers with its first-generation mobile tool, Turnpike, have paved the way for XRS, which will run on more than 50 types of mobile devices to transmit vehicle and operator data automatically to a management dashboard.
XRS said that with nearly 90 percent of drivers already having mobile devices, there are no additional hardware costs associated with its mobile platform that takes only 10 minutes to install, while its flexibility makes it as big or as small as users need it to be – whether for owner-operators or small, medium or large operations.
PeopleNet announces new mobile app, hardware integration
PeopleNet, a provider of integrated onboard computing and mobile communication systems, announced new products and updates at its 10th annual user conference held Aug. 6-8 in Boca Raton, Fla.
A new management app, EventAlerter, sends maintenance and safety alerts – such as rollover-stability or sudden-deceleration events – to registered smart-device users, who can access all relevant data surrounding the event. The app

– which uses real-time data from multiple sources – is available now for the iPad, with versions coming soon for iPhone and Android smart devices.
PeopleNet also is integrating its fully functional software with rugged commercial handheld devices. The software is available now on commercial-grade handheld devices from Intermec.
A Spanish-language option also is available now on PeopleNet's BLU.2 onboard computer. All menu items, system messages and field names on all screens may be changed to Spanish to boost drivers' comfort level with BLU.2 while helping to shorten their learning curve.
Technology In Focus: Freight Matching
Speed Dating
Online load boards go beyond matching equipment with freight
By Aaron Huff
Many transportation companies look to propel their growth by using nonasset brokerage and logistics services. With modest growth in truck capacity, the competition for trucks only will continue to heat up.
Speedy communications and transactions with carriers are essential to secure capacity. Likewise, carriers that want to keep their trucks moving need to eliminate time-consuming phone calls, faxes and rate negotiations.
When matching equipment and loads, carriers and brokers traditionally have limited the amount of information they share online; many preferred to handle business transactions offline through phone calls and faxes. This model has changed; companies now are looking for ways to "onboard" customers faster and conduct business electronically from start to finish.
Coming onboard
Freight matching service Internet Truckstop's Carrier Registration Plus program allows carriers to create a profile and find brokers and shippers that match their criteria. Carriers that attach copies of their W-9s, cargo insurance and other documents to the profile can eliminate the manual process of getting approved by brokers and shippers.
Companies want to 'onboard' customers faster and conduct more business electronically.
Likewise, brokers can create their own profiles and attach documents, such as load agreements, which carriers can sign online to speed freight transactions.
An approved carrier is moved to a separate database that is monitored and updated continuously to note changes in insurance coverage, safety fitness and carrier performance. Internet Truckstop's carrier rating system is based on seven criteria.
TransCore's DAT Onboarding service for its DAT.com freight marketplace is a "digital locker" that carriers can use to create profiles of equipment and lane preferences and store cargo insurance and W-9 credentials. The service gives carriers and brokers the ability to sign contracts and paperwork online to speed transactions.
DAT Onboarding is free to carriers; brokers pay for the service, which includes ongoing monitoring of carriers' operating authority, safety, insurance and other criteria.
Quick transactions
Larger brokers and third-party logistics companies often deploy their own freight matching systems that are different than load boards. One of the largest 3PLs, C.H. Robinson, uses its CHRWTrucks.com Website for transactional loads, similar to a spot market. Carriers with Website access already have gone through C.H. Robinson's qualification process.
Besides using the site to search for loads, carriers are able to monitor all loads they are moving, submit proof-of-delivery documents and manage receivables. Carriers also can assign loads to drivers; load details are sent to a mobile app on the driver's phone, which can be used to update load status automatically through CHRWTrucks.com.
uShip soon will release uShip Pro, a version of its online transportation marketplace for brokers and shippers, which will provide full load details and the ability for carriers to negotiate and bid for loads online. Carriers can build their credibility through ratings and reviews, similar to the eBay model.
Brokers and shippers can create their own carrier networks in order to send loads to a private group. The uShip Pro marketplace also has automated tools for users to import load postings directly from transportation management systems.
TMS software
In addition to online marketplaces, freight brokers and 3PLs that use TMS systems also are able to identify qualified carriers and book loads quickly.
PCS Software's cloud-based Express TMS software is used by brokers to identify and execute loads. Once carriers are identified for a particular load, the software screens the carriers' current safety data, insurance coverage and other credentials; all carriers that pass the minimum criteria then receive a load offer electronically. The carriers receive a Web page to accept, reject or ask additional questions about the load.
Once the user selects the carrier, the system automatically sends a rate confirmation and a Web interface with paperwork for the load and to submit load updates. The carrier also can submit all proof-of-delivery documents online.
Likewise, companies that develop TMS software for carriers continue to add new built-in features that help speed the freight matching process with brokers and shippers.
From the Driver Manager screen in McLeod Software's LoadMaster system, a user can post available equipment quickly to a variety of load boards. When posting equipment, the feature uses information about the equipment in the LoadMaster database. Carriers also can send an automated e-mail or fax of available equipment to their private network of shippers and brokers.
TMW Systems' TMWSuite software allows users to post available equipment en masse. A user highlights the equipment to post online from within the main load-planning screen; with a mouse click, the software gives the option to post the equipment to load boards.
The latest technologies do more than increase visibility of equipment and freight; they provide a seamless transaction.
Rand enhances TND 760, creates new Web-based portal
Rand McNally added new enhancements to the TND 760 Fleet Edition, its single-box electronic onboard recorder-compliant system, and created a new Web portal for all of its mobile communications products. The announcements came one year after launching the original TND 760.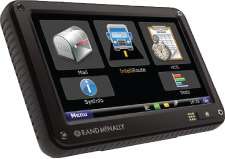 New features include a Driver Vehicle Inspection Report; the inclusion of the "Oil Field Exception" in its Hours of Service application; the ability to provide routing information to the cab automatically from back-end dispatch systems; and map database and feature updates for its IntelliRoute GPS navigation software. These new capabilities enable customers to move further away from paper reporting and tracking, providing necessary information to the back office in real time, the company says.
The new Web-based portal, Rand McNally Connect, provides a single access point for fleet tracking, mapping, performance reporting and e-mail communication, along with access to third-party applications. The portal is accessible for all customers of Rand's mobile communication fleet management systems, which include the TND 760, TPC 7600 system and TruckPC products; the products also are integrated with transportation management systems from TMW Systems, McLeod Software and others.
In addition, the new portal allows fleets to access new features:
• Geofencing, which allows for complex polygon shapes to be identified as alert areas. When a vehicle enters or exits the polygon, an e-mail or SMS text message may be sent back to the company. Geofencing can be used to track entry and exit to analyze wait time at a customer location or to report vehicle detention time;
• Landmarks that provide a tool for uploading a custom list of locations onto the map;
• Dashboards and trending charts that give fleetwide visibility into fuel consumption, fuel economy, idle time, hard braking, miles driven, speeding and other activities and issues; and
• Alerts that can be communicated via an SMS text message or e-mail, identifying a task in the process such as arrival and departure, a safety issue such as hard braking or a cost-control opportunity like extended idling.