Productive Packages
Evolving UPS, FedEx package fleets deliver productivity gains, fuel economy
By John G. Smith
Dale Spencer admits that UPS package vehicles look similar from one model year to the next. "There's only so much you can do with a shoebox," says the company's director of maintenance and engineering.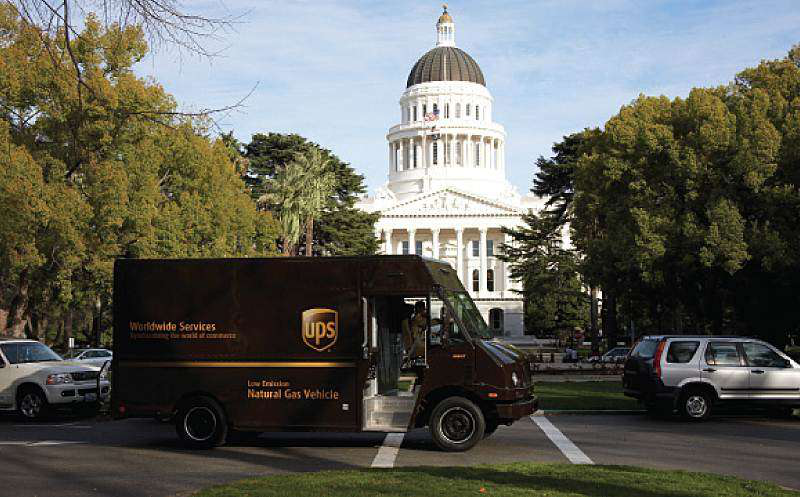 But looks can be deceiving. Explore these vehicles closer, and you'll discover a long list of enhancements made in the name of productivity – for good reason. "When you stop 100 times a day, and you can take 30 seconds away every time you deal with a truck, time is money," Spencer says.
Every major pickup-and-delivery operation would agree.
"The door width, types of doors and the bulkheads – those sorts of things do make a big difference," says Russ Musgrove, managing director of global vehicles at FedEx Express. "Whether it's a sliding door or a push-open door, what happens to that door when it folds away, the types of latches that we use – we're talking seconds." Those seconds add up and can be used to move more packages.
The seat's angle and door's size can help drivers jump in and out of the cab more quickly, and FedEx Express shed time from trips into the cargo area by adding 3 inches to the width of its bulkhead doors. Access also has been improved by switching to rollup doors at the back of the step vans rather than barn doors. "It goes back to methods of how we want the courier to actually operate as he walks through the vehicle," Musgrove says.
New lighting also is making a difference. The interiors of UPS package cars traditionally have been lit with a combination of translucent roofs and floodlights, which also generated unwanted heat. Those are being replaced with LEDs and lightly painted interiors – making it easier to find packages on shelves.
Both fleets also are turning away from the turn of traditional keys and are equipping drivers with key fobs that unlock doors and start engines without leaving a pocket.
Little things
Little changes indeed can mean a lot – and not just for enhanced productivity. After consulting with Liberty Mutual insurers to find ways to reduce common workplace injuries, UPS introduced new grab handles and lower step heights.
The company always wasn't known for ongoing tweaks to its vehicles. For decades, UPS used largely unchanged Grumman Olson or Union City bodies on Chevrolet and Ford platforms.
"There was no incentive to delve into any kind of [new] technology because there was none available," says Spencer, who saw a shift begin in the 1980s when the first package cars were fitted with 4.3-liter GMC V6 engines.
"When it comes to total cost of ownership, it's hard to trump fuel."
– Russ Musgrove, managing director of global vehicles, FedEx Express
"It was like a new revelation for us as far as reliability and fuel economy," he says. The company began to explore new options from other manufacturers, and now has models coming from Freightliner and Workhorse assembly lines.
One particular issue seems to be driving many of the latest vehicle design experiments. "When it comes to total cost of ownership, it's hard to trump fuel," says Musgrove.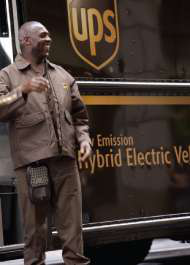 FedEx has pledged to improve fuel economy by 20 percent between 2005 and 2020, and the company already has reached 16.6 percent.
Losing weight
The biggest gains were realized by optimizing trucks for specific routes. On suburban routes where vehicles typically travel about 30,000 miles a year, many 700-square-foot step vans were replaced with smaller Mercedes-Benz Sprinters. Musgrove says that many routes could be supported by vans with less than 150 horsepower if he could find a "sub-3-liter" engine to meet the need.
Other advances have been realized by shedding weight, which is leading both fleets to explore composite vehicle bodies.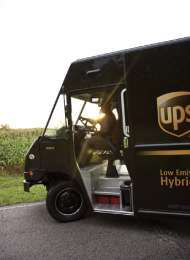 UPS just completed a yearlong test of new CV23 vehicles from Utilimaster and Isuzu, which are 900 pounds lighter than the galvanized aluminum P70 package cars they replace. With 630 cubic feet of room, they also are about 70 cubic feet smaller, but they can improve fuel economy by up to 40 percent.
The CV23's 4-cylinder diesel engine and 6-speed Aisin automatic transmission are standing up to the demands; it's why the fleet will have 150 of them on the road by the end of the year.
FedEx Express is finding promise in Utilimaster's Reach, as well as the Nissan platform that offers a B50 life of more than 300,000 miles. "I believe that composite materials will rule the day," Musgrove adds.
Fuel alternatives
Options from hybrids to alternative fuels and electric vehicles also are changing the fleets in their own way.
Since 2004 when FedEx first began retrofitting some of its used step vans with Eaton hybrid-electric drivetrains, the company already has logged more than 11 million miles with hybrid vehicles. The technology no longer is "in a test space," Musgrove says; the problem is that the costs still are far too high.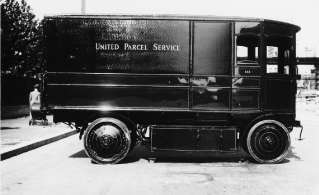 There is a similar story at UPS, which in 2000 had its first hybrid vehicle running a 31-mile route in Huntsville, Ala. The company now is on its third generation of hybrid equipment, with 380 hybrid trucks in its fleet. But while the goal was to improve fuel economy by 30 percent, the real results have been half that, Spencer says.
Advances also have come from different fuel choices. Since 1989, UPS has been running select package cars on compressed natural gas and now has 1,100 in service. Unlike their predecessors, these engines have electronic fuel injection, addressing many traditional challenges such as cold starts; they also offer a 170-mile range without a significant investment in tanks. North and south of the border, similar gains have been made with propane.
Big-city electricity
Services in dense urban areas also have made it possible for these fleets to launch some of the nation's most extensive tests of electric powertrains.
At FedEx, the focus is in Chicago, where the fleet has been experimenting with everything from Navistar eStars to Freightliner Custom Chassis Corp. eCells, AMPs, Smith Electrics and Ford Transit Connect electric vans. But FedEx's most important research may involve its work with GE and Columbia University's Engineering School, which is examining the challenges of delivering power to these vehicles.
Each truck has an 80 kW battery to carry 3,300 pounds of cargo over 100 miles per charge, but a fleet of 100 of them parked at the same facility would need between half and a full megawatt of power to recharge; that is almost as much as a small subdivision.
At the least, such a mass recharging would need to be supported by a substation or multiple transformers, and while there might be enough copper in the ground through an area built to support a lot of manufacturing activity, it may be lacking in areas developed for warehouses.
Musgrove suggests it may be time for a different mindset. A truck in Manhattan might need a range of as little as 20 to 30 miles. "Let me choose the range," he says. "By scaling the battery size and scaling the range, it allows us to take the total cost of electrification and make it less expensive."
It is another change that ultimately could lead to a better package.