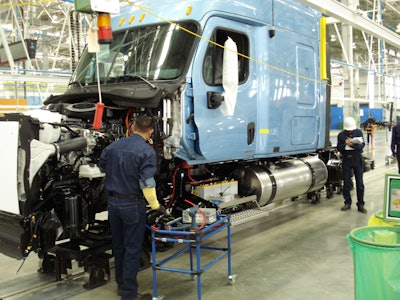 Research and Markets announced its Truck Manufacturing – North America Industry Guide, which includes data and analysis covering the truck manufacturing industry in the United States, Canada and Mexico. The report includes comparable data on market value, volume, segmentation and market share, plus full five-year market forecasts. It examines future problems, innovations and potential growth areas within the market.
The market value is calculated in terms of manufacturer selling price and excludes all taxes and levies. Any currency conversions used in the creation of this report have been calculated using constant 2011 annual average exchange rates.
The report contains an executive summary and data on value, volume and segmentation and provides textual analysis of the industry's prospects, competitive landscape and profiles of the leading companies. It also compares data from the United States, Canada and Mexico alongside individual chapters on each country. A five-year forecast of the industry is included.
Among the report's highlights:
• The automotive manufacturing industry within the North American Free Trade Agreement countries had a total market value of $161.8 billion in 2011;
• Mexico was the fastest growing country with a CAGR of 8.8 percent over the 2007-2011 period;
• The United States is the leading country among the NAFTA bloc, with market revenues of $116.6 billion in 2011. This was followed by Mexico and Canada, with a value of $23.4 and $21.9 billion, respectively; and
• The United States is expected to lead the automotive manufacturing industry in the NAFTA bloc with a value of $152.8 billion in 2016.
For more information, go to www.researchandmarkets.com/research/4sljrg/truck_manufacturing.