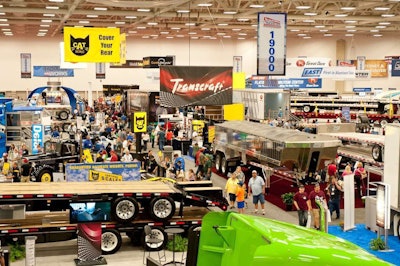 Intersection 2012 – which includes The Great American Trucking Show, Commercial Vehicle Outlook Conference and for the first time this year, the ProPickup Truck Expo and The Construction Symposium – drew qualified audiences from both the trucking and construction industries, according to Randall-Reilly Events.
"We continue our focus on creating segment-specific events attracting new audiences to Dallas," says Alan K. Sims, vice president/executive director. "GATS has always attracted private and for-hire fleets, owner-operators and company drivers and continues to do so. But now we are also drawing new qualified buyers of trucks, trailers and equipment within several market verticals, including construction, landscaping and municipalities."
The Great American Trucking Show exhibit space increased nearly 20 percent over 2011 with 507 exhibitors representing major truck and trailer brands, suppliers and others aligned with the heavy- and medium-duty truck markets. The show also enjoyed participation from many state and national associations that held meetings before or concurrently with GATS. On the final day of GATS, thousands of truckers watched as winners of the 2nd annual Overdrive Pride & Polish National Championships were announced. In total, 48,621 industry personnel registered for GATS.
The third annual Commercial Vehicle Outlook Conference attracted hundreds of industry leaders from all segments of trucking to take in expert presentations, panel discussions and numerous networking opportunities during two half-days immediately prior to the opening of GATS and ProPickup Truck Expo. For-hire and private carriers represented at CVOC own and operate more than $8 billion in trucks and trailers. The event was produced by Randall-Reilly Business Media & Information and the Heavy Duty Manufacturers Association.
The inaugural ProPickup Truck Expo included more than 50 industry-leading exhibitors representing pickup truck manufacturers, upfitters, component and parts suppliers and service providers. More than 15,000 Class 1-5 truck owners registered to attend both GATS and PPTE. Attendees also took in a full slate of onsite educational sessions on topics such as towing and law, power upgrades and maximizing fuel economy.
The Construction Symposium, which began Tuesday prior to the opening of GATS and PPTE, was held at the new Omni hotel adjacent to the Dallas Convention Center. The Symposium attracted construction contractors for three days of educational sessions, networking and entertainment. Attendees also enjoyed a VIP walk around of PPTE and GATS.
"We believe Intersection 2012 will continue to benefit exhibitors and attendees by enabling them to maximize their networking, educational and buying/selling opportunities," says Brent Reilly, president, Randall-Reilly Business Media & Information. "They will save time and money by achieving multiple goals with one all-encompassing event."
Next year's events will be held Aug. 20-24, 2013, at the Omni Hotel and Dallas Convention Center.