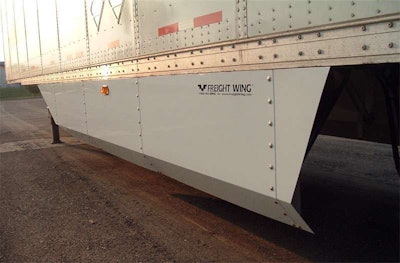 The California Air Resources Board has extended the registration deadline for its small fleet compliance plan regarding the state's tractor-trailer greenhouse gas regulation to Jan. 1, 2013. CARB said the extension will provide fleets with 20 or fewer affected trailers that have not registered to use a compliance option under the regulation to participate in the plan's extended phase-in option that begins in 2013 and ends in 2016.
The tractor-trailer GHG regulation applies to 53-foot or longer box-type dry van or refrigerated van trailers and the tractors that pull them on California highways. The regulation requires these tractor-trailers to utilize certain aerodynamic equipment and low rolling-resistance tires as verified by the U.S. Environmental Protection Agency's SmartWay plan.
Small fleet owners of 2010 and older model year trailers have two choices to bring their fleets into compliance: They either can ensure their fleet is equipped with SmartWay-verified aerodynamic equipment on their trailers by Jan. 1, 2013, or choose the phase-in compliance plan that requires owners to report their information to CARB by the Jan. 1 date.
By choosing the phase-in option, they can take up to four years to comply with the regulation. Regardless of which method owners choose, they also must install fuel-efficient low rolling-resistance tires on their trailer fleets by Jan. 1, 2017.