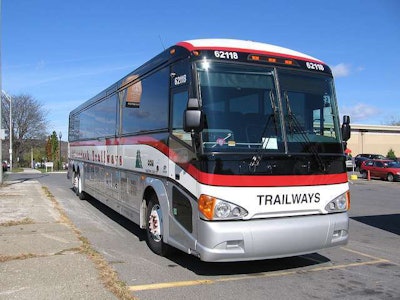 The Federal Motor Carrier Safety Administration announced it has received an application from Trailways companies for an exemption from the hours-of-service record-of-duty status provision in 49 CFR 395.8(c) that requires every commercial motor vehicle driver to record his or her duty status for each 24-hour period using methods prescribed in that section.
FMCSA considers the request to be on behalf of all regular-route passenger carrier drivers. Trailways requests that these drivers be exempted from the requirement to enter a change in duty status on the daily log for breaks in driving time of 10 minutes or less for the purpose of picking up or setting off passengers, baggage or small express packages. Such time would not be considered a change-of-duty status for the purposes of 49 CFR 395.8(c).
FMCSA is requesting public comment on Trailways' application for exemption. To comment, go to www.regulations.gov; the docket number is FMCSA-2012-0268.