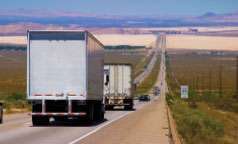 Bendix Commercial Vehicle Systems announced its support for the efforts of Operation Safe Driver, which takes place this year Oct. 14-20. Launched in 2007 by the Commercial Vehicle Safety Alliance, Operation Safe Driver aims to reduce the number of deaths resulting from crashes involving large trucks, buses and passenger vehicles.
CVSA, in partnership with the Federal Motor Carrier Safety Administration, will hold activities in the United States, Canada and Mexico that promote traffic law and safety belt enforcement, roadside inspections, regulatory compliance and commercial driver education. Operation Safe Driver also aims to educate all drivers about safe operations around commercial vehicles.
About 4,000 people are killed each year in crashes between passenger vehicles and large trucks and buses, according to CVSA, and the costs of large truck crashes exceed $19 billion annually. Bendix said it believes Operation Safe Driver presents an opportunity to highlight the many ways that fleets, owner-operators and drivers can have a direct impact on improving roadway safety. Keys, according to the company, are recruiting and training safe drivers, adopting active and supportive safety technologies, and staying atop industry best practices for maintenance and inspection.
"Everything begins with safe drivers, safe driving practices and comprehensive driver training," said Fred Andersky, Bendix director of government and industry affairs. "These are irreplaceable in any approach to reducing the potential for accidents on today's challenging roadways. In addition, advanced braking and safety technologies can help even the best drivers respond to constantly changing highway situations. Continual opportunities for safety education, especially as it relates to driving practices, maintenance and inspection, are critical to the industry as well. At Bendix, we strive to advance the mission of safety through new active and supportive safety technologies and ongoing industry education."