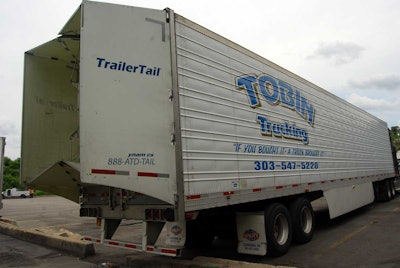 Buy a diesel-powered APU.
While your truck's engine can use a gallon of diesel an hour idling, recent estimates indicate a diesel APU burns only about a fifth of that.
Get an electric APU.
These systems typically use electric power from a bank of high-capacity absorbed glass mat batteries to power climate-control units and in-cab accessories. The systems currently on the market cost roughly half to two-thirds of most diesel APUs. They won't cover your power needs over a 34-hour restart, but for drivers getting home once a week, they could be more appropriate.
Purchase a diesel-powered heater.
Operators in northern climates may not need to shell out up to $9,000 for a full-function diesel APU because a less expensive diesel-fired heater can keep the cab plenty warm while burning about a quarter of the fuel an APU uses.
Use a DC air-conditioner.
If your need for cooling when resting is low, battery-powered air conditioners can be paired with high-capacity batteries and a fuel-fired heater for a comprehensive cab climate-control alternative to idling.
Get an engine block heater.
If you find yourself operating in colder climates often and you idle a lot to warm your engine, you might save in the long run by getting a block heater.
Use an inverter.
It will convert direct current from your batteries to alternating current to power in-cab accessories. If your idle time needs are limited, an inverter can supply adequate electricity.
Use your reefer for climate control.
Some solutions allow you to harness the reefer unit's power capacity to function much as a diesel APU would – running cab accessories and climate-control devices when the truck is idle, as well as charging truck batteries.
Install an automatic engine start-stop system.
These can be set up to shut down the engine after a certain amount of idle time or, tied to a thermostat, to turn on when the cab goes above or below a certain temperature.
Switch to a daycab, and use motels.
If your operation doesn't require too many over-the-road overnight stays, not only would you save on the cost of a tractor by buying a daycab instead of a sleeper, the lower weight and reduced idling also could save fuel costs.
Add a roof fairing.
If you're running a flat-top or midroof tractor in a van or reefer application, an aftermarket roof fairing can smooth the airflow over the trailer, improving fuel efficiency. Some tests indicate that a full roof fairing, combined with side shields/extenders, can deliver up to a 15 percent improvement in fuel economy.
Install side skirts.
Many fleets have installed these on van and reefer trailers to minimize the drag produced by air swirling under the trailer. Side skirts can deliver a savings of 7.4 percent, according to U.S. Environmental Protection Agency-verified SAE Type II testing.
Add a trailer tail or undercarriage fairing.
Add-ons like the trailer tail and side skirts on owner-operator Brett Tobin's van can reduce aerodynamic drag and help stability in crosswinds. The tail reduces the drag created by the vacuum at the back of a fast-moving tractor-trailer. Some operators report a full mile-per-gallon boost from using a trailer tail combined with side skirts. Undercarriage fairings work on the drag at the rear of the trailer as well, with a primary component installed ahead of the trailer axle to deflect air down and away from the axle plumbing. Adding a device often called a "diffuser" in front of the dock bumper, along with side fairings, will increase fuel savings. [ART: DSC_0011.jpg] Credit: Todd Dills
Choose a lower sleeper roof.
The stand-up sleeper with a full roof fairing is not always the most fuel-efficient choice when it's not paired with a dry van or reefer. In liquid bulk operations, spec'ing a midroof sleeper or searching the used lots for one is going to be your best bet for aerodynamics. In most flatbed applications, loads are unlikely to rise above the height of a midroof setup. For some high-density-load haulers, a flattop may be the best choice.
Use rounder mirror backs.
If you're using old-style flat West Coast mirrors for the side views, consider moving to mirrors with a more rounded back to further enhance airflow.
Dress your tanks with aero steps.
Fuel tank fairings paired with steps that smooth airflow over the tractor's lower side can improve fuel performance by 2 to 3 percent.
Use dry van gap fairings.
At the front of dry vans, gap fairings ease airflow over the tractor-trailer gap. This can boost fuel efficiency by 1 percent when paired with a highly aerodynamic tractor with a tight truck-trailer gap length.
Cover wheel hubs.
Hub manufacturers estimate 1.5 to 3 percent in fuel savings when all outside-facing wheels are outfitted with the devices, which smooth airflow across the wheels.
Use cab side extenders.
For tractors not already optimized for aerodynamics, installation of cab side extenders can create a smoother airflow around the tractor-trailer gap. Makers estimate a fuel efficiency improvement of 1 to 3 percent.
Add a nose cone fairing.
For flattop or midroof tractor owners pulling dry vans, nose cone fairing technology combines the vertical fairing of more standard tractor-trailer gap technology with an outsize fairing at the top to direct air both over the trailer and down and around the sides.
Install airtabs on the hood, along the sides and at the top rear of the tractor and/or trailer.
Each one creates vortices that combine to reduce the suction and drag at the rear of vehicles traveling at speeds above about 35 mph. Based on a study involving Britain's Institute of Road Transport Engineers, the technology can produce fuel savings of 2 to 4 percent.
Choose aero or porous mudflaps.
These can help reduce drag.
Use aluminum wheels.
The weight reduction relative to steel brings better fuel economy and also can mean a payload increase.
Choose a 13-liter engine over a 15-liter.
Unless your application absolutely needs the extra muscle, there is a considerable fuel savings with the smaller engine.
Choose trucks with lighter specs.
Having 2,000 extra pounds results in a 0.1-mpg hit.
Use a hybrid in city operations.
They can cut fuel consumption as much as 50 percent in pickup-and-delivery applications. Return on investment is about 12 to 13 years, but federal and state incentive programs can reduce that. California offers a $25,000 incentive for the first hybrid purchased and $20,000 for each hybrid thereafter.
Choose a truck with smaller fuel tanks.
Fuel weighs 7 pounds per gallon, so a smaller tank can cut weight significantly.
Spec the optimal gear ratio.
Gear ratios can be optimized for a variety of applications. For most trucks, 3:08 is a highly efficient highway ratio, says the American Trucking Associations' Technology & Maintenance Council.
Use an automated manual transmission.
Don't let acquisition costs scare you off. These transmissions have been proven to deliver vastly better fuel economy than manual transmissions, especially for novice drivers.
Standardize powertrains to increase driver efficiency.
If your drivers always are driving the same kinds of trucks with the same kinds of powertrains, they will be more efficient because you're removing variables that can impact fuel economy.