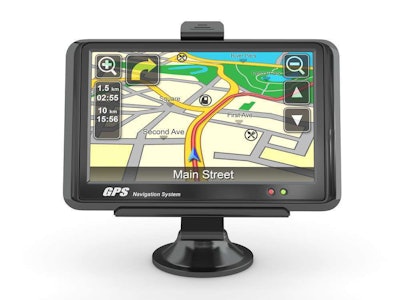 Investigate traffic problems, and plan around them.
Slow traffic not only sucks hours from a driver's on-duty time, it also requires more deceleration and acceleration, which requires more fuel. Check state U.S. Department of Transportation Websites for potential construction projects and traffic on a route.
Use route-planning software or a GPS unit.
Choosing the shortest, most practical truck route can save hundreds of dollars a year in fuel. Spoken turn-by-turn directions will take you directly to street-level addresses. With navigation, savings of 10 or 15 miles a week are possible by eliminating out-of-route miles.
Plan fuel stops carefully.
Some in-cab navigation systems and smartphone apps include real-time information in their point-of-interest features to help drivers search for the nearest fuel locations and cheapest prices on their route.
Consolidate fuel purchases.
Fuel card providers have negotiated discounts with truckstops, but just as importantly, drivers and fleets can use the data they collect to compare and consolidate fuel purchases to negotiate more savings.
Renegotiate fuel surcharge agreements.
Technology enables carriers to create surcharge programs using lane-specific fuel prices and a daily reset.
Bypass weigh stations and toll booths.
Enrolling in programs such as PrePass and electronic toll collection systems can help drivers avoid burning extra fuel by stopping and then accelerating back to speed.
Analyze fuel consumption trends.
When mpg falls, try to determine why. Did you encounter more urban driving? Did your length of haul change? As a general rule, drops of more than 0.5 mpg are due to maintenance problems. ECMs can be wildly optimistic, so your actual mileage may be lower than indicated. Validate ECM readings with your own calculations based on the odometer and gallons purchased at fillup.
Isolate data and look for correlations.
ECMs record many things that can affect fuel economy. Look for noticeable changes in average speed, top gear time, diesel particulate filter regenerations, shifting and idling. Compare those trends with fuel economy during the same period.
Check your fuel consumption by route.
If you have dedicated runs that can be made via either interstate or a shorter route with a lot of stop-and-go traffic, run trials for fuel usage and time to see which is the most efficient.
Use fuel incentive programs.
Capture data to compare drivers against their peers based on mpg, idle time and other fuel metrics, and offer cash rebates and rewards for performance. Consider taking a team approach to encourage top-performing drivers to mentor less-efficient drivers. Don't rely solely on mpg as a measuring stick, as there are too many variables outside the driver's control.
Be efficient across the board.
Fill trailers to capacity to haul more freight while burning less fuel and driving fewer miles.
Consider trailer size and weight.
Are you getting the most out of 53-foot trailers? Or can you get by with a smaller trailer? Why burn fuel to haul a heavier trailer around if it's not needed?
Fuel efficiency may be a better calculation for your fleet instead of fuel economy.
Hauling 40,000 pounds at 6 mpg day in and day out may be better for your bottom line than hauling 30,000 pounds at 7 mpg.
Consider other calculations to determine fuel efficiency.
Hours on the road per gallon instead of mpg may be a better measurement in some applications.
Use reefer monitoring systems.
An often-overlooked expense is burning excess fuel to cool trailers. Trailer monitoring systems capture the vital information needed to use no more fuel than necessary.
Eliminate fuel theft.
Truckstops and fleets are beginning to use cardless systems with infrared technology and/or radio frequency identification that prevent fuel purchases from going into the wrong tank.
Employ telematics.
To influence drivers, you need data points, which is why telematics have become so important in boosting fuel economy.
Create driver scorecards.
Onboard computers capture a range of information on how drivers are performing. This information can be presented to managers and drivers in an easy-to-use scorecard format.
Locate trailers.
Have you ever spent time and fuel looking for a trailer in a parking lot? Trailer-tracking systems provide the trailer's precise location to remove all uncertainty.
Minimize distractions in the cab.
Lock out all in-cab interactive devices, including cell phones, to keep the focus on driving and fuel economy.
Use speed governors.
But recognize that they are unpopular with drivers, so take the time to communicate your reasons and objectives for spec'ing them.
Look for exceptions.
Set up instant alert notifications when any action is out of bounds. This strategy will ensure you have the information when you need it – now – rather than days or weeks after the fact.