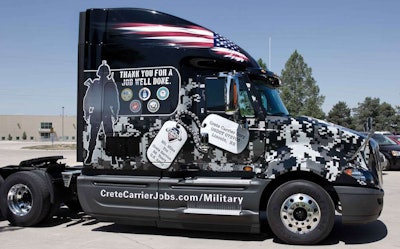 Lincoln, Neb.-based Crete Carrier Corp. has been named to the 2013 list of top 100 Military Friendly Employers by G.I. Jobs — the first year the company has made the list.
The list is compiled from surveys of 5,000 companies whose annual revenues exceed $500 million. Criteria included strength of the company's military recruiting efforts, percentage of new hires with prior military service, retention programs and company policies on National Guard and Reserve service.
Crete Carrier, along with subsidiaries Shaffer Trucking and Hunt Transportation, employes about 5,700 people, roughly 30 percent of which are former members of the military. The fleet also runs a five-truck Patriot Fleet of five International ProStar tractors decorated with decals honoring U.S. Armed Forces, and five veterans that work at Crete drive the trucks.
The Patriot Fleet is an attempt at attracting and retaining veteran drivers, Crete says.
This year, Crete was also named to CivilianJobs.com's annual Most Valuable Employers for Military list and certifies as an employer partner of the military.