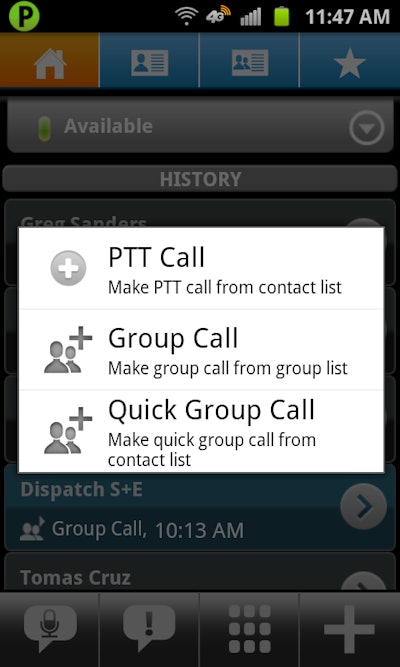 Transportation companies, especially those with same-day and next-day service, used to rely exclusively on radios before cellular and satellite-based communications arrived. With these latter technologies, fleets added digital voice, text and data to their enterprise, but they never forgot what radio brought to the table.
Radio gave dispatchers an unsurpassed ability to contact drivers at the push of a button for quick calling and group talking. Fortunately, the feature lived on in the Digital Age as cellular carriers developed "Push-to-Talk" (PTT) services.
During the 1990s and 2000s, Nextel was very popular in the transportation industry because of its nationwide PTT and cellular service delivered through its iDEN network. In 2005, Sprint purchased Nextel. Like other carriers, Sprint had already developed an IP-based PTT feature for sending voice calls to phones in its network.
To eliminate redundancy, free up network space and cut costs, Sprint announced plans this past June to shut down the iDEN Nextel network. The closure could happen as early as June 30, 2013.
Priority Dispatch, based in Cincinnati, Ohio, is one of many fleets that has explored new options for mobile communications technology since this announcement was made. Priority Dispatch was using the iDEN Nextel network for years and came to depend on PTT to operate efficiently and meet its service guarantees.
The company provides same-day and next-day courier service in a six-state area. Most deliveries are extremely time sensitive. With PTT, the company is able to contact drivers, and drivers contact dispatch, instantaneously as events unfold. Dispatchers frequently use PTT to contact a group of drivers, for example, to see who is available to make a critical pickup.
"The ability to get hold of drivers and communicate back is paramount," says John Pohlman, network manager for Priority Dispatch, which has a fleet of over 700 drivers. "Drivers are how we make our bread and butter. If a driver can't get to a delivery, or can't tell somebody he has a problem, you lose money. It is an instant hit to the bottom line."
Pohlman tested the current PTT services of all major networks, or carriers, before making a decision. During the testing period, Pohlman paid close attention to the coverage and speed of the carriers' PTT services. He tested the networks' coverage throughout the company's geographic footprint, from Detroit, Mich., to the fields of Kentucky and Tennessee.
For the test, Pohlman used handheld devices that were not specific to carriers so he could ensure that Priority Dispatch would not be limited in its future choice of hardware devices.
"We found out a few things," he says. One conclusion was that the "set up" time or "speed" of PTT service varied by carrier. From the time you push the PTT button to the time the phone chirps–the signal that a connection is established–varied anywhere from 2 to 20 seconds by carrier. Only one carrier, AT&T, was consistently two seconds or less.
"It comes down to the data network. If a carrier doesn't cover you, you have a problem," he says. "For AT&T to function that quickly, it's an enterprise grade app at that point."
Priority Dispatch chose the AT&T's 4G LTE network with the new Enhanced PTT service. He also chose the Samsung Galaxy Rugby Pro smartphone, a rugged device built for commercial use.
Priority Dispatch runs a delivery application on the phones called Courier Complete. The application, from Complete Innovations, uses the phone's GPS to give dispatchers real-time tracking information. By tracking drivers' movements online, dispatchers do not need to use PTT to ask drivers for their location, he says.
AT&T also plans to offer dispatching software with its Enhanced PTT service for businesses that need to direct employees to specific places at specific times.
The company is offering the Enhanced PTT service in two different rate plans, both of which include unlimited use. The application will not count against monthly data totals or incur pay-per-use charges.
• $5 per month when added to existing AT&T voice and data plans
• $30 per month for a PTT-only rate plan (no voice or non-PTT data included).
For more information on AT&T Enhanced PTT visit https://www.business.att.com/products/enhanced-push-to-talk.html?source=EBBZ0000000000aBU&wtExtndSource=eptt&LNS=VN_MB_FSG_eptt_0518.