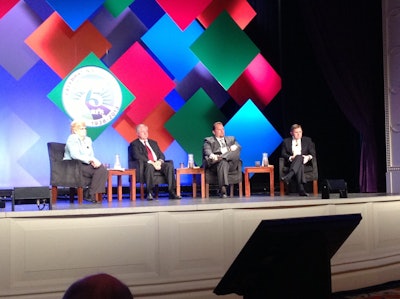 On Tuesday, March 5, an executive panel representing three large carriers gave their take on the economy, changes in regulations and the impact to their businesses at the Truckload Carriers Association's annual convention in Las Vegas.
The panel, moderated by Lana Batts, co-president of Driver iQ, said freight volumes receded in the latter half of 2012 and have since picked up. The driver shortage has intensified, however, and likely will grow worse this summer when changes to the hours of service (HOS) rules take effect.
The new HOS rules require drivers to take one, 30-minute break within the first 8 hours of coming on duty. Drivers that use the reset provision will have to go off-duty for a minimum of 34 hours that must include two consecutive 1-5 A.M. periods.
"In the last four weeks we've seen the number of driver applicants drop almost 20 to 25 percent," said panelist Max Fuller, chairman and chief executive of U.S. Xpress. Fuller believes the drop is due to drivers pursuing opportunities outside the industry, such as in construction. He believes the shortage will intensify after July 1 with the HOS changes. Fuller estimates that U.S. Xpress could see a drain in productivity by more than 10 percent.
Changes to HOS and other recent regulations have infuriated many of the veteran drivers at Werner Enterprises who have been in the industry for more than 15 years. They are "throwing their hands up and saying "'I'm done. If not today then soon after,'" said panelist Derek Leathers, the company's president and chief operating officer. "My bigger concern is the quality of the men and women in this industry that we lose simply because they choose to not participate any longer with some of the intrusions."
Leathers estimates HOS changes will impact productivity less than 10 percent. Carriers will have to find ways to at least maintain and hopefully increase drivers' earnings, he said.
"It is in all of our best interests to continue doing a better job of building a pay package that's more specific to the type of work (drivers) are doing and hopefully, through our collective efforts, to impress upon the shippers the importance of paying a decent wage to these men and women."
"The cost has to be passed on," agreed panelist Dan England, chairman of Salt Lake City-based C.R. England. "Unfortunately the driver is caught in the crossfire." England says that the HOS changes will add an additional 6 to 12 hours to the current runs in its dedicated fleets.
On the bright side the HOS changes could shrink capacity in the industry and put upward pressure on rates.
"This will be in all likelihood the last nail in the capacity coffin as it relates to how tightly this thing will get," Leathers said. A shrink in capacity by three to five percent will lock up capacity in a hurry and cause carriers to collapse around their key customers, he added.
The panel also discussed ways to use technology to create efficiency and opportunities for improvement. U.S. Xpress, for instance, has seen its average length of haul decrease from 1,700 to 530 miles. This transition required developing tools to analyze its business and improve productivity.
U.S. Xpress has created dashboards to pull together information from various sources to monitor its operations.
"With the dashboards we can measure a lot more things than we did in the past. A shorter length of haul really dictates the need for better statistics," Fuller said.
C.R. England has used driver-load optimization technology to dramatically improve productivity. It is also using lane departure, forward collision warning and roll stability control systems in the cab to increase driver safety. England warned that such technology should not be used as a bandage, however.
"We better make sure we are putting a driver in that cab who has been sufficiently trained—first who has been sufficiently vetted to make sure he or she is a qualified person to be in that cab—and then training them properly and then having ongoing training across all areas where we need to improve performance."
The panel also discussed the delicate topic of how to manage a family business over time. C.R. England has always had a culture of maintaining good family relationships throughout its four generations of ownership. Dan England entered into an agreement to buy out the company from his three brothers, which became effective December 31, 2012.
"We were able to do it in such a way that we were able to maintain the harmony among us as brothers and as a family," he said. "I count that as one of my great accomplishments in business and set a model for my four sons who will take the company forward."