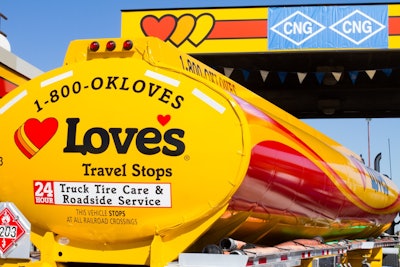 Love's Travel Stops has agreed to purchase 50 new Freightliner Cascadia trucks with the Cummins Westport 12-liter compressed natural gas engine for its fleet of fuel haulers, operating under the Gemini Transport brand. Gemini, a sister company to Love's, has been testing the 12-liter CNG engine in one of its Freightliner fuel trucks since September 2012.
"We've had great success with the CNG engine in delivering fuel to Love's locations in our home state of Oklahoma", said Brent Bergevin, director of transportation for Gemini Transport. "The CNG engine has a 450-mile range, and we've seen a significant cost benefit in using CNG as a transportation fuel."
Gemini will purchase and take delivery of the 50 trucks in the fourth quarter of 2013 through ATC Freightliner in Oklahoma City.
Love's Travel Stops recently announced an expansion of its network of fast-fill CNG locations for Class 8 trucks to the Texas Triangle cities of Dallas, Houston and San Antonio. The new Gemini CNG trucks will be used to deliver fuel in these metro areas and Oklahoma City.