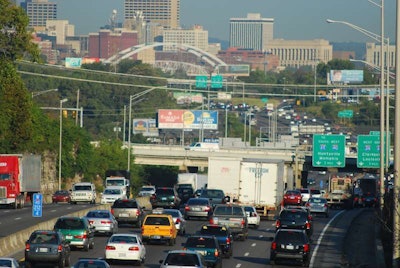 The amount of congestion on U.S. roadways has increased, according to the Inrix Gridlock Index, as April's traffic increased by 9 percent from April 2012. Inrix says this is "a side-effect of better economic times."
April 2012 to April 2013's increase was the second largest year-over-year rise recorded by Inrix's Gridlock Index, says the company's report, stemming from commuters and shoppers nationwide using roadways more.
However, regional differences, says Inrix, point to the potential for a "two-speed recovery."
Overall, says Inrix CEO Bryan Mistele, traffic congestion data shows "the U.S. economy is getting back to business," but that some regions "are accelerating while others are stuck in a lower gear."
For instance, the Midwestern region saw gridlock shoot up, while areas in the South lagged.
Traffic in the northeastern metro areas grew 10 percent, and in western metro areas, 13 percent. The Midwest showed the strongest growth, with a 14 percent year-over-year increase.