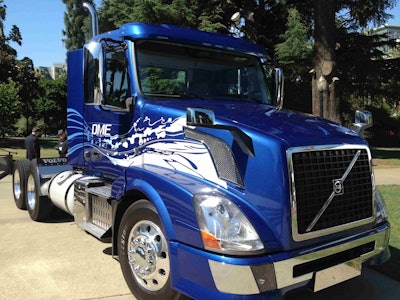 SACRAMENTO, Calif. – On the steps of the California state capital – where some of the country's most stringent emissions standards have been mandated – Volvo Trucks North America Thursday introduced its cleanest truck to date, powered by dimethyl ether (DME).
"Early this year, we began customer testing of DME-powered Volvo Trucks here in the U.S. in a bulk- haul application," said Göran Nyberg, president of Volvo Trucks North American Sales and Marketing. "If you combine that with our previous experience, we have now completed more than 650,000 miles of DME testing."
In making Thursday's announcement, Volvo became the first manufacturer to announce plans to commercialize DME powered heavy-duty commercial vehicles in North America.
Limited production of DME trucks will begin in 2015 with a D13 engine and I-Shift automated manual transmission standard.
Thank to a need for an upgraded fuel system, Volvo Trucks powertrain project manager Ed Saxman says existing engines cannot be retrofitted to accommodate DME, but the base engine will be mostly identical to the D13.
"A new injection system is needed to allow for twice the fuel flow," he says.
[youtube 2r4AtWk8Pqk nolink]
DME-powered Volvo vehicles will join a line-up that already includes CNG-powered VNM and VNL model daycabs. The company also plans to introduce a proprietary LNG engine – North America's first fully integrated natural gas solution – in VNL daycabs and sleepers next year.
"Drivers who have operated DME-powered engines have been impressed," Nyberg says. "They say that it performs like diesel. And that is an important consideration for our customers' demanding applications."
What is DME?
DME is a clean-burning fuel that can be made from a variety of sustainable domestic sources, including natural gas and waste. Volvo says the fuel's high cetane number delivers performance and efficiency comparable to diesel, and it packages densely enough on a truck to support long-range transports, or to allow room for vocational equipment on the frame.
DME produces no soot, therefore no diesel particulate filter (DPF) is necessary.
Volvo partner Oberon Fuels says it has developed new skid-mounted, small-scale production units that can cost-effectively convert biogas and natural gas into DME.
The first of Oberon's production units will go online in June in California's Imperial Valley region.
"Our small-scale process enables the utilization of regional feedstocks to produce DME," said Rebecca Boudreaux, Ph.D., president of Oberon Fuels. "Cost-effective, regional fuel production addresses the distribution issue, and offers the potential to bypass the need for a national fueling infrastructure, while reducing the carbon footprint associated with transporting the feedstock and the fuel produced."
Nyberg says Volvo sees many advantages to putting support behind DME as a heavy-duty fuel.
"First, it's a clean technology. It produces ultra-low emissions," he says. "It's a simple technology. The diesel engine platform adapts well to DME as a motor fuel.
DME is also safe to store, Nyberg says.
"It's simple to transport and easy to dispense," he adds. "In fact, it's stored at low pressure, similar to propane.
But at the same time, it's dense enough that it can be used for long-range transport plus municipal or local applications."
DME is also non-toxic.
"It's already used today as an aerosol propellant in cosmetics and even in inhalers that treat asthma," Nyberg says. "This means that any leakage of DME would do no harm to the environment."
Nyberg says the price of DME will be competitive with diesel, and that price will not be tied to crude oil.
"It will not be dependent on foreign suppliers," he says of DME supplies. "Finally, we're excited about DME because it can be produced from so many different feedstocks – everything from natural gas to any organic matter, such as garbage or even grass clippings."