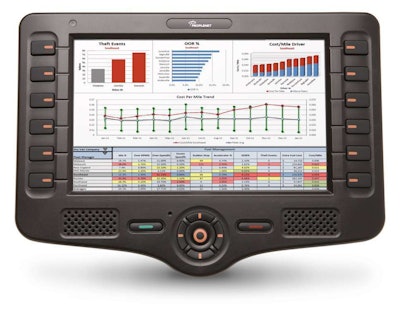 Gone are the days of limiting the information fleets can share between the office and remote systems. Because of the convergence of enterprise software, mobile systems and business analytics, the same high-powered information and analytics available to managers in the office also can be visible instantly to drivers viewing in-cab touchscreen displays.
"The power of bringing this together is real-time coaching of drivers and real-time alerts," said Brian McLaughlin, president of onboard computing and mobile communications provider PeopleNet, at last month's ALK Technology Summit in Princeton, N.J. "When you bring together analytics with mobile applications, you end up with a much higher value."
By analytics, McLaughlin means a variety of key performance metrics created from various data sources and compiled into dashboard-style displays for managers and drivers.
KPIs can be developed using data from a vehicle's electronic control module, such as driver speeds, idling, fuel economy and shifting patterns. They also can come from back-office enterprise software systems to monitor utilization, safety and compliance.
Whatever the source, the analytics can be presented to drivers and managers the same way, at the same time, in formats such as charts, graphs and color-coded "green, yellow, red" reports.
Performance-based pay
As the driver shortage grows more acute, motor carriers are looking for ways to increase pay despite marginal increases in freight rates. By using integrated systems to score driver performance and deliver scorecard analytics in a timely manner to drivers, fleets can create trustworthy pay-for-performance programs. All drivers, regardless of tenure, have an equal chance to boost their pay.
Celadon's program includes a scorecard with eight metrics, including safety, compliance, on-time service, fuel economy, idling, load acceptance and the accuracy of drivers' planned time-of-availability messages sent to dispatch.
The Indianapolis-based truckload carrier obtains the load acceptance score from its driver-load matching optimization system from Manhattan Associates. Drivers receive load assignments through their Qualcomm MCP 200 onboard computers. They are given a fixed time to accept or reject the load offering; if drivers do not respond, it is considered a rejection.
Celadon plans to feed drivers' scores for its performance-based pay program into Manhattan's Driver&Load optimization software to influence the matching algorithm. Drivers with higher scores will be given more driver-friendly freight as a reward.
The scores also could be used to prioritize driver-load assignments based on customer service needs. Drivers with higher scores would be assigned to customers with more time-sensitive freight.
Celadon plans to use Qualcomm's Media Manager service to send drivers scorecard documents in PDF form. The scores and driver rankings also will be available in the fleet's driver portal, which drivers can view through the MCP 200's Web browser, says Mike Gabbei, chief information officer.
Journey management
Also at the ALK summit, John Erik Albrechtsen, manager of operations for Calgary-based Paul's Hauling, shared his vision for an integrated "journey management" system that ensures driver compliance to routes and operational procedures.
"We want to make sure that what the back office sees is what the driver sees," says Albrechtsen, whose company uses ALK's CoPilot Truck navigation system on PeopleNet's Blu computing platform. "When two people have the same information, it is easy for them to make decisions."
Through ALK's RouteSync functionality, onboard navigation is synchronized to custom route settings in PC Miler and order information in Paul's Hauling's TMW Suite software systems. The result is route consistency between the back office and cab for routing and mileage used for billing and driver pay.
By use the latest trends in technology convergence between the office and cab, motor carriers can give drivers an equal opportunity to view their performance and make necessary course corrections.