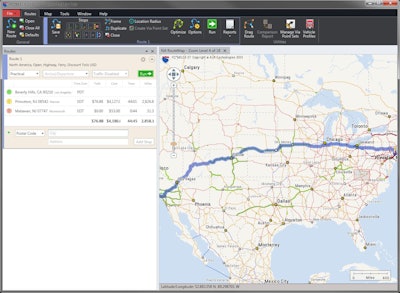 ALK Technologies, a global provider of GeoLogistics and navigation software, released the latest version of its PC Miler truck routing, mileage and mapping software. PC Miler 27 features and enhancements include a completely redesigned  graphical user interface and hours-of-service compliance tools for more precise arrival and delivery time estimates.
"PC Miler 27 is a milestone for ALK.  We're thrilled to unveil this robust yet easy to use interface with an all new look and feel," said Mike Bodden, senior vice president of technology, ALK Technologies.  "The new UI provides an improved user experience with easier product navigation, resulting in increased productivity."
ALK says the new PC Miler 27 graphical user interface reflects recent trends in software design that result in more intuitive navigation of the product's vast feature set.  The user interface features a ribbon style design with newly crafted descriptive icons, a more accessible layout for smoother transition between tasks, and windows that can be floated outside the PC Miler application to better accommodate workspace needs.
PC Miler 27 features new hours-of-service compliance tools to help ensure that routes and ETAs will accurately reflect driver's available hours.  The HOS compliance tools increase the precision of arrival and delivery time estimates and help dispatchers and drivers comply with HOS government regulations, the company says.
Based on remaining hours, PC Miler calculates when a driver needs to break, and indicates the designated breaks in the detailed driving directions report, automatically updating on-duty hours.  Through the PC Miler|Connect interface tool, fleets are able to import or export the drivers' remaining hours associated with specific routes.  With the pending new regulations, ALK says this is crucial to managing driver compliance and CSA safety scores.
RouteSync, an added capability, can ensure operational consistency between dispatched routes and actual routes, delivering the guidance to drive the miles that are being billed. With RouteSync, routes and preferences are sent from PC Miler in the back office directly to the latest version of ALK's CoPilot Truck navigation software in the cab. In addition to maintaining route compliance, RouteSync reduces non-revenue mileage, improves load profitability and increases driver satisfaction.
Enhanced routing, map data and address matching are a major part of each annual PC Miler release.  As part of ALK's ongoing effort to track nationwide toll costs in the U.S. and Canada, PC Miler|Tolls 27 includes four new toll discount programs.
The suite of PC Miler 27 integration tools has also been updated. PC Miler interfaces with all leading transportation, logistics and fleet management systems. PC*MILER runs on Microsoft Windows, UNIX, and Linux platforms, as well as IBM AS/400 (iSeries) and mainframe computers. PC*MILER is also available as a web-based application.
For more information, visit: www.pcmiler.com