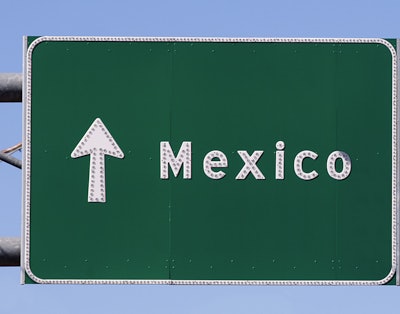 A 13th carrier is joining the U.S. pilot trucking program with Mexico, and some trucks and drivers participating in the program have been placed out-of-service.
The Federal Motor Carrier Safety Administration will admit Sergio Tristan Maldonado, DBA Tristan Transfer, to the cross-border program. The FMCSA made the announcement in a July 22 post responding to the concerns of the Advocates for Highway and Auto Safety over Tristan's Pre-Authorization Safety Audit.
Applicants must pass these audits and meet additional criteria. The Advocates failed to show sufficient problems with Tristan's PASA to pose a safety risk, the agency wrote.
In the program's recent weeks, GCC Transportes, Transportes Monteblanco and Baja Express each had one truck placed out of service. Additionally, the agency cited two driver for hours-of-service violations for Servicios Transportes Internacional y Local.
Also, Adriana de Leon Amaro and Transportes Mor became the first two carriers to fail the Pre-Auhorization Safety Audit. The FMCSA has dismissed 14 applications and three more carriers withdrew applications.
Program participation currently consists of five carriers with permanent operating authority and seven with provisional authority. Decisions are pending on two additional applicants, Road Machinery and Transportation and Cargo Solutions DBA Tracso.
The District of Columbia appeals court has not indicated if it will rehear the consolidated case made by the Owner-Operator Independent Driver Association and the Teamsters union. On April 19, the court ruled to allow the agency to continue the program.
In a separate litigation against the program, the same court has not issued an opinion following OOIDA's May 6 oral arguments. Program drivers are not required to have a medical certificate from the National Registry of Medical Examiners, while American CDL holders must have certificates issued by this U.S. registry, the association stated.
The pilot program has set a precedent, albeit for intercity bus service, the FMCSA told Congress June 21. Mexico now will allow Greyhound to provide transportation between two locations in one Mexican city. Previously, Mexico had refused the bus company's application until the long-haul trucking dispute was resolved between the two nations.
Since the program began nearly two years ago, participants have made 4,820 border crossings. GCC Transportes had the most with 2,962 crossings, followed by Servios De Transportes Internacional Y Local with 349.
Program participants have undergone 1,605 inspections. GCC Transportes received with 813, while Servios De Transporte Internacional Y Local underwent 349 inspections.