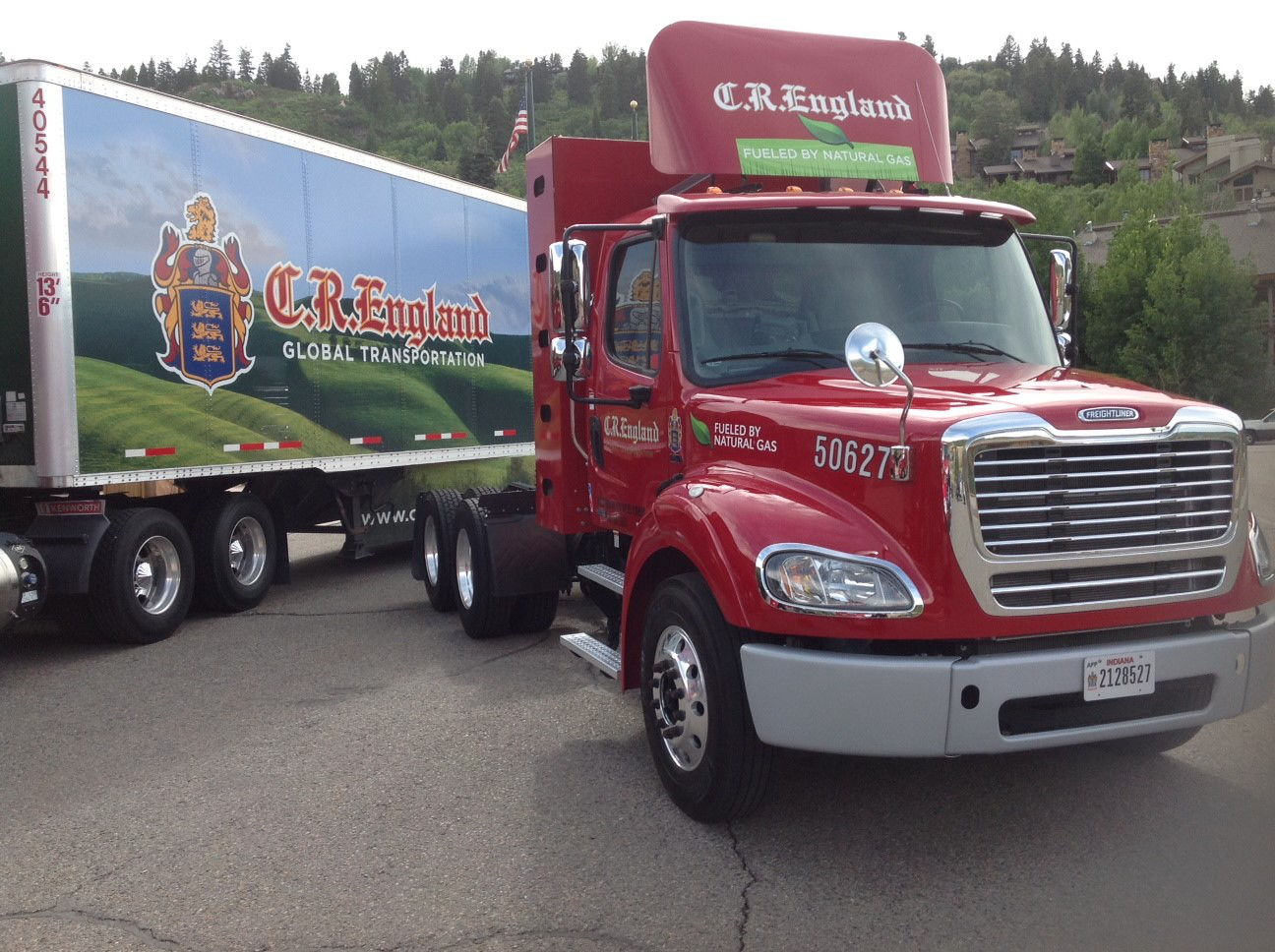 In October 2011, C.R. England placed five day cab tractors into service. With its fleet of more than 5,000 trucks, the capacity gain was relatively minor. What made the fleet unique was under the hood: a 15-liter Westport LNG engine.
C.R. England's Dedicated division uses the LNG fleet to move freight between Ontario, Calif., and Las Vegas for Coca-Cola.
With its LNG fleet, Salt Lake City-based C.R. England has established itself as a pioneer for the use of natural gas in over-the-road trucking. The venture has not turned a profit, but the paybacks are now flowing in from shippers seeking opportunities to deploy dedicated lanes powered by gas.
"We've seen a negative ROI from a financial standpoint but the experience in doing all this has been invaluable. And it's really lead us down a path that we're looking forward to and are excited about," said Zach England, chief operating officer, on Aug. 6 at a shipper symposium hosted by C.R. England on the use of natural gas in trucking.
The shipper symposium was held at the pristine Deer Valley Resort in Park City, Utah. The company's own experience using LNG was one of many topics discussed at the symposium attended by about 80 senior executives in transportation from shippers, carriers, energy suppliers and manufacturers.
The event kicked off with a ribbon cutting ceremony for C.R. England's next generation of natural gas-powered vehicles. For the past five months, C.R. England has deployed two CNG day cabs in local dedicated operations. The trucks are Freightliners with the Cummins Westport 9-liter engine.
C.R. England received a grant from the state of Utah in December, 2012. The grant put the cost of the CNG-powered equipment on par with a diesel-powered equivalent, Zach England said.
A representative from the Hershey Company offered one example of how C.R. England's investment and experiences in natural gas is paying off. The chocolate manufacturer has a large concentration of freight movements — about 30,000 annually — in the vicinity of Hershey, Penn., between its manufacturing center and distribution center and out to customers.
Hershey Company is looking for opportunities to decrease emissions and support energy independence for the United States. It recently sent out a bid request (RFP) to a limited group of core carriers who it believed could help make the transition to natural gas.
The company ultimately rewarded C.R. England Dedicated with a five-year contract based on its past record of service, safety, competitive rates, continuous improvement and sustainability initiatives. C.R. England is operating a dedicated fleet of 32 tractors, 198 trailers and 46 drivers for Hershey. The fleet is transporting about 20 percent of the freight in Hershey's local vicinity.
Looked at from a different perspective, the losses C.R. England has incurred from its 15-liter LNG fleet could be included in its marketing budget.
"C.R. England has made significant investment in resources and capabilities. The partnership towards natural gas vehicles will keep our organization sustainable," said Andy Bowman, manager of distribution for the Hershey Company. "We were certainly looking at what they've done in the industry in terms of innovation and sustainability and that they had some experience with natural gas vehicles. It wasn't a deciding factor but it was contributing. It certainly was something that differentiated themselves from other carriers."
Bowman said that none of the other carriers Hershey evaluated during the RFP had prior experience with natural gas.
Hershey wasn't the only shipper at the symposium looking to expand dedicated fleets powered by natural gas. A representative from Owens Corning said natural gas is an opportunity for carriers to earn long-term contracts. The shipper spends $600 million a year on freight transportation.
Owens Corning is looking for long-term commitments from carriers to operate dedicated lanes using LNG or CNG equipment. To help carriers pay for the incremental cost of the vehicles, which command a premium of 60 percent over the diesel equivalent, the company typically will negotiate to pay a carrier's standard diesel fuel surcharge during the first couple years.
Once the carrier has recovered their investment through the fuel cost savings of buying natural gas, the latter part of the contract can be renegotiated to pass on those savings to the shipper, said David Uncapher, sourcing and logistics leader for Owens Corning.
"My goal is to make it a partnership where we can do something like this," he said.
For Owens Corning, implementing natural gas is much more involved than partnering with innovative carriers. The company is also heavily involved with suppliers like Clean Energy to invest in onsite fueling stations and working with equipment manufacturers to extend the range that LNG and CNG tractors can go between fueling.
By the end of this year, Uncapher said the company will have contracts with seven carriers to use natural gas vehicles in at least one lane. The company's goal is to have 50 percent of miles in its freight network converted to natural gas by 2020. It is on pace to do 8 million miles next year and to double that amount every year.
"We are not looking for bids and rates. We want strategic negotiations to partner together and serve us better," Uncapher said.