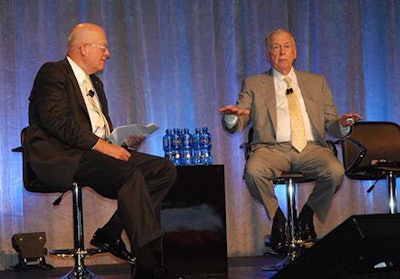 The United States is the only country in the world that doesn't have an energy policy, T. Boone Pickens, founder and CEO of BP Capital and founder of Clean Energy, told attendees in remarks kicking off the Commercial Vehicle Outlook Conference in Dallas Wednesday.
That's despite the fact that out of 90 million barrels of oil produced worldwide each day, the United States uses 19 million, Pickens said. The U.S. imports about 4.5 million barrels per day from OPEC and in 2011 spent $150 billion for more than 1.5 billion barrels.
Putting our energy requirements in the hands of unstable and potentially unfriendly OPEC nations – which Pickens called "cartels" – threatens our national security and hurts our economy, Pickens said, but we've done little to change the situation in decades.
"From Nixon forward, presidents have said, 'elect me and we'll be energy independent,'" he said. "The media never asked them what their plan was."
In July 2008, Pickens introduced the Pickens Plan – his roadmap to moving the country away from its dependency on foreign oil.
One of the main elements of the Pickens Plan is to shift our nation's heavy-duty trucks from imported diesel to domestically produced natural gas.
Moving 8 million trucks to natural gas would save 3 million barrels of oil per day, he estimates.
"You could cut 70 percent out of OPEC," he said.
When Pickens unveiled his plan he estimated the U.S. had recoverable shale gas reserves of 4,000 trillion or more.
"Now, people are saying we may get twice that much," he said. "The point is, we have plenty of natural gas," more than any other country in the world. We're going to go down as the biggest saps that ever came to town if we don't use the natural gas we have."
Pickens said he hears repeated calls for the government to get involved in building out the natural gas fueling infrastructure.
"That would be a cost disaster," he said, pointing to the 100 LNG refueling locations Pilot already has as proof that the private sector is better suited to the task. He also hears that natural gas trucks "can't go 750 miles without refueling," he said. "Who goes 750 miles without stopping for something?" he asked.
Natural gas is more cost effective than other fuels because it operates in a free market, unlike oil, where prices are set each day by OPEC. Out of 90 million barrels of oil produced each day, OPEC produces 30 million.
"The Saudis have to have $100 per barrel in order to be able to meet their 'social commitments,'" Pickens said of commitments which includes paying off the Saudi population, many of whom don't work, he said.
A portion of the price of each barrel of oil also goes to pay off the Taliban and other enemies of the U.S., he said.
The U.S. also wastes $215 billion per year to have our Navy protect the Straits of Hormuz, the busiest passageway for oil tankers in the world, according to Pickens.
Of the 17 million barrels that travel through the Straits each year, 10 percent comes to the U.S., with the balance flowing to China and Europe.
"We don't really need that oil," Pickens said. "Why in the hell are we over there in the first place? Because we've always been there. I don't like that answer."