The U.S. Department of Transportation is looking at the big picture, and is asking the public for their thoughts on making transportation more efficient and safer.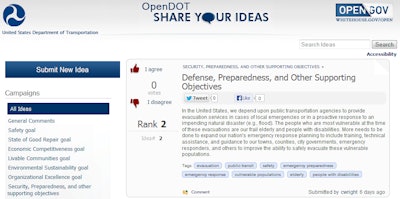 "We also want to ensure that all of our stakeholders have an opportunity to read the plan and weigh in. And that means you," Transportation Secretary Anthony Foxx says on the DOT's Fast Lane blog, italics his.
The draft of the FY2014-2018 blueprint, "Transportation for a New Generation," with instructions for commenting, is here.
As for some specifics related to trucking (page 16), DOT says it will:
* Implement a three-pronged strategy that raises the bar to enter the motor carrier industry, requires carriers to maintain high safety standards to remain in the industry, and removes high-risk carriers, drivers, and service providers from operation;
* Promote safe operations and best practices through partnerships and education;
* Improve operator medical qualifications, credentialing, and licensing systems;
* Improve safety information, research, and analysis to advance innovation, technical solutions, and operational effectiveness; and
* Consider regulatory actions to improve crashworthiness of motor coaches and other commercial vehicles and to require implementation of cost effective crash avoidance technologies to those vehicles.
The plan also includes a discussion of freight movement, emphasizing the need for a comprehensive national freight transportation strategy that bolsters the nation's economic competitiveness. (Page 39)
The current four-year DOT plan, also titled New Generation, can be reviewed here.
Of course, the devil is in the regulatory details—and some folks in the trucking industry criticized the FMCSA's version of its most recent strategic plan for being heavy on grand goals but light on target specifics and the means for achieving them.
Still, bureaucrats aren't psychics—or at least they don't admit to reading our minds, yet. So, as always, contact your professional associations about their interests and positions, or submit your thoughts directly to DOT.
And feel free to copy your comments to DOT and post them below.