As civil lawsuits pile up in the wake of federal allegations concerning Pilot Flying J's fuel rebate program, questions are being raised about the proposed settlement of a class action filed in Arkansas.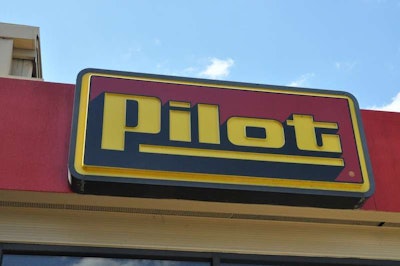 As first reported by The Tennessean, the man who formed a corporation seeking to settle multiple suits against the truck stop giant is also a trucking association executive who counts Pilot among his dues-paying members.
Records show that within days of the FBI raid on Pilot's Knoxville, Tenn., headquarters, Lane Kidd, who heads the Arkansas Trucking Association, formed National Trucking Financial Reclamation Services LLC. National Trucking then filed the class-action suit that led to the proposed settlement.
The connection is a little too cozy for some trucking companies and plaintiffs, who argue in court filings that Kidd's firm is a "shell" company, "hastily conjured in Arkansas" for resolving the civil cases against Pilot.
Drew McElroy, the attorney for Atlantic Coast Carriers and three other trucking firms, charged that National Trucking shouldn't qualify to be part of the class action, The Tennessean reported.
"National Trucking is not a trucking company and has never bought a gallon of fuel from Pilot," the motion states.
In another filing, Wright Transportation presented a similar objection. Additionally, Wright's lawyers say the settlement provides little more than the offer Pilot CEO James A. Haslam had already made to customers whose fuel rebates had been underpaid.
But the attorney for National Trucking, Michael Roberts, praised Haslam and Pilot, saying they "stepped up and did the right thing," a quote featured prominently in a recent issue of the Arkansas Trucking Report, the state trucking association's magazine. Elsewhere in the issue, Pilot Flying J is listed as a Gold-level sponsor of the association's annual conference.
Pilot attorney Aubrey Harwell has posted a "Q&A" explaining and supporting the proposed settlement. "It provides that all Pilot Flying J customers who are owed money will be paid quickly, every dollar owed plus interest," Harwell writes.
Consolidating the cases in a class action spares Pilot the expense of defending itself in multiple courts across the country. Under the Arkansas settlement, lawyers for the trucking companies would share in fees totaling as much as $14 million.
Kidd, who did not respond to interview requests for The Tennessean story, subsequently issued a statement to correct "inaccurate reporting" in the media, and to defend the class-action settlement and his role in it. He emphasizes that "at no time prior to filing the lawsuit, did Pilot know of my intentions to file the case," and that he has never met Haslam.
"My current role in the litigation pending with Pilot Flying J was not motivated by any relationship with Pilot Flying J or any of its executives, but rather in my role to protect the interests of the trucking companies for which I work," Kidd says.
And that includes participating in the suit so that association members wouldn't have to. Trucking company owners "are typically not litigious," he adds.
Forming National Trucking to represent trucking companies in the suit "is nothing out of the ordinary," Kidd says.
"For anyone to insinuate, that there is something improper about a company assigning its claims to another so that justice may be served and recovery may be had, is wrong and misplaced," Kidd's statement reads. "One must wonder what motives those who are making such wrong insinuations have."
Kidd goes on to criticize the attorneys filing suits outside the class action, suggesting their "ulterior motive" is additional fees, "which would likely come out of their clients' recovery monies."
Brian Fitzpatrick, a law professor at Vanderbilt University who specializes in class-action litigation, agreed that the assignment of interests in a class-action suit is routine.
"It kind of mimics some of the advantages of the class-action system," Fitzpatrick told the Associated Press. "In the insurance industry, it's ubiquitous."
Fitzpatrick notes, however, that a judge could ask for more details about the companies that want to remain anonymous. Such issues would be considered in a fairness hearing scheduled for later this year.
Previous coverage of the Pilot Flying J rebate allegations may be found here.