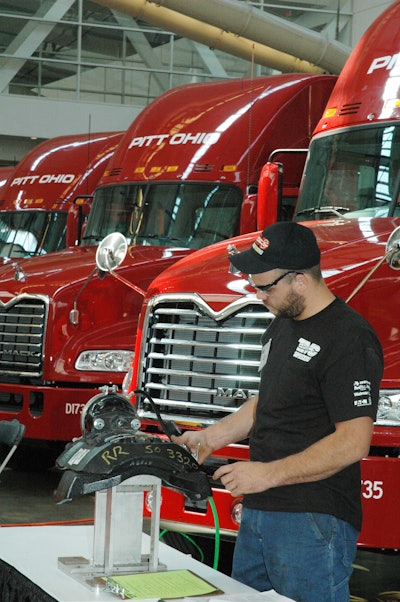 In an effort to support the cultivation of trucking industry technicians, seven Mack Pinnacle Axle Back models were provided by Mack customer PITT OHIO for the Technology and Maintenance Council (TMC) National Technician Skills Competition – TMCSuperTech 2013.
Mark McLean, Jr. of FedEx Freight from Montgomery, N.Y. was the first-place winner of the 2013 competition. As the Grand Champion, McLean has earned his spot as "the industry's best technician," and a trip to the 2014 Daytona 500, according to TMC.
The ninth annual TMCSuperTech, conducted Sept. 9 and 10 in Pittsburgh, Pa., awards superior skill and encourages excellence among truck technicians. This year, 130 technicians from the U.S. and Canada participated in the competition. The 2013 competition was expanded to two days, allowing more technicians to participate. Day one was the qualifying round, which included a written test plus several hands-on skills challenges. The 112 technicians scoring the most points the first day advanced to the next day's competition, where they put their diagnostic and problem-solving skills to the test. Competitors participated in a variety of trouble-shooting tests in categories such as HVAC, drivetrain, brakes, electrical, wheel ends, suspensions and engines.
The Mack Pinnacle models were used for the brake repair work station.
"Mack Trucks is proud to put our support behind an event that focuses on the skills and professionalism of some of the finest truck technicians in the U.S. and Canada," said John Walsh, Mack vice president of marketing. "Congratulations to the TMCSuperTech winners for being the best of the best."
Second-place winner Eric M. Vos from FedEx Freight, Boise, Idaho won a trip to the 2014 Brickyard 400, and third-place finisher Jeffrey Ostby also of FedEx Freight, Spokane, Wash. received a trip to the 2014 Talledega 500 spring race. Additional awards were given for individual skills competitions.