Prosecutors in New York have reached an agreement with one of the nation's largest trucking companies in an ongoing investigation into trafficking untaxed, "native-brand" cigarettes in the state.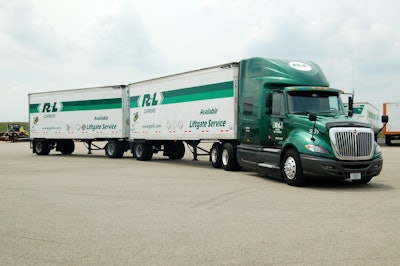 According to the settlement, Ohio-based R+L Carriers (ranked #23 on the CCJ Top 250) will adopt a sweeping set of compliance procedures to avoid further involvement in the transport of illegally shipped cigarettes.
The less-than-truckload carrier also has agreed to make $140,000 in payments to the American Cancer Society and the American Lung Association for use in counties in which R+L transported or delivered illegal loads of cigarettes.
"R+L is to be commended for adopting these ground-breaking compliance procedures," said St. Lawrence County District Attorney Nicole Duvé. "The procedures should protect against further incidents in which R+L customers are able to use the company for illegal shipments of cigarettes. We hope that robust cigarette compliance procedures will become standard in the trucking industry."
An R+L spokesman did not respond to requests for comment. The company denies any wrongdoing, however, and said it enters into the agreement "to avoid the delay, uncertainty, inconvenience and expense of protracted litigation and to provide finality," according to the settlement.
New York's Franklin, Chautauqua and Suffolk counties also signed off on the agreement.
Details of the investigation were few in the documents released Tuesday, Sept. 24. The investigation stemmed from the seizures of large quantities of untaxed cigarettes in St. Lawrence Co. in January and February 2012. The trucking company in those instances was not R+L, but the investigation did reveal that R+L delivered unstamped tribal cigarettes to various unauthorized locations in New York from 2010 to 2013, in violation of the state's tobacco products delivery statute and criminal tax statutes.
A source familiar with the investigation tells CCJ that the case does share a connection with an indictment handed down last month by the U.S. Attorney for the Western District of Missouri.
That federal indictment alleges a $17 million, multi-state conspiracy to transport hundreds of thousands of cartons of contraband cigarettes from the Kansas City, Mo., area to New York. Additionally, the undercover operation by the Bureau of Alcohol, Tobacco, Firearms and Explosives resulted in a $3.5 million civil forfeiture and a non-prosecution agreement that requires a Winnebago, Neb. company to pay a $300,000 penalty. The forfeiture included four new Peterbilt tractors purchased for the operation.
To complicate matters, on Wednesday, Sept. 25, the Department of Justice criticized ATF's handling of its tobacco "stings." An oversight investigation by the DOJ's inspector general said the bureau misused some of the $162 million in profits from undercover operations between 2006 and 2010, and lost track of at least 420 million cigarettes, the Associated Press reports.
In exchange for R+L's continued cooperation in the St. Lawrence Co. investigation and its implementation of a cigarette policy and compliance procedures, the DAs agreed not to prosecute and to inform other agencies of the "nature and scope" of the company's cooperation.
State Sen. Charles Fuschillo, who sponsored the public health law prohibiting cigarette deliveries to unregistered dealers, applauded the district attorneys' efforts to ensure compliance.
"Illegal cigarette sales harm law-abiding business owners by placing them at a competitive disadvantage. They also steal substantial tax revenues from the state and local governments, funds which taxpayers cannot afford to lose," he said in a statement. "Stopping illegal cigarette trafficking will help level the playing field for our small businesses and prevent tax dollars from being lost to fraud."
A searchable database of New York's licensed and registered cigarette tax agents, wholesale dealers and retail dealers is available online. The state Department of Taxation and Finance urges those relying on the information to "check and re-check the list," which is updated weekly.
Josh Altman of Mountain/Service Distributors, which delivers a wide range of consumer products to upstate New York convenience stores, emphasizes that complying with state laws regulating the sale of tobacco products is straightforward. He points out that the major tobacco companies ship from bonded warehouses, and that his company receives its cigarettes from an established, regional carrier.
"Any trucking company should know that a trailer load of cigarettes going through multiple states to get to the destination would be suspect," Altman told CCJ.
More broadly, and nationally, cigarette distribution is subject to the PACT Act, explains Prasad Sharma, senior vice president and general counsel for the American Trucking Associations.
The legislation, also known as the Prevent All Cigarette Trafficking Act, was passed in 2010 and targets internet purchases and delivery. It amends the Jenkins Act, which governs the collection of taxes on, and trafficking in, cigarettes and smokeless tobacco. The PACT Act provided new requirements for registration, reporting and record keeping, and increased penalties for criminal violations.
Among its provisions, the act created a "list of cheaters," or cigarette sellers who have been identified as being unregistered or non-compliant, Sharma notes. He encourages carriers who transport cigarettes to make sure they receive the list. An explanation of the act and its requirements can be found here.
While he could not comment on the specifics of the R+L agreement, Sharma did say that such settlements are not unusual. He cited agreements by DHL, UPS and FedEx in 2005 and 2006, in which the parcel delivery companies made deals with the state of New York to strengthen their policies prohibiting the delivery of cigarettes to consumers throughout the U.S. These settlements, he notes, were in response to alleged violations prior to the existence of any readily available list or website of unauthorized sellers.