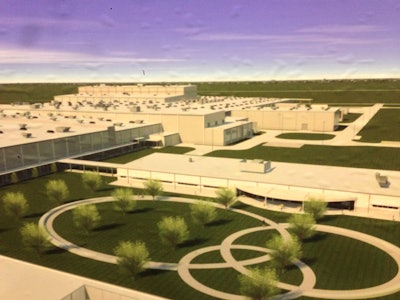 With a groundbreaking ceremony September 22, Yokohama Tire Corporation officially began construction of a state-of-the-art commercial tire manufacturing facility in West Point, Miss. Officials on hand at the ceremony included U.S. Senator Roger Wicker, U.S. Congressmen Alan Nunnelee and Gregg Harper and Mississippi Gov. Phil Bryant.
The new operation, named Yokohama Tire Manufacturing Mississippi, is slated to be completed in October 2015. YTMM will manufacture Yokohama drive, steer and trailer tires for Class 4-8 vehicles.
[youtube 6lCF45etzHI nolink]
"This is a great day for Yokohama, Mississippi and the community of West Point," said Tadaharu Yamamoto, YTMM president. "As we move forward with construction of our new tire-making facility, I'd like to personally thank Gov. Bryant, his staff and all the people in Mississippi for their support on this incredible endeavor. There's no question we made the right choice coming to Mississippi with this project."
"Today is a very exciting day as Yokohama prepares to begin construction of its very first U.S. manufacturing facility to be built from the ground up," said Gov. Bryant. "Just five short months ago, the company announced its plans to locate these operations in West Point, and I am grateful to the Yokohama team and those at the state and local levels for working so quickly to get this project underway."
When Phase 1 is complete and production is fully online, the plant will output 3,000 tires per day – approximately 1 million units per year – and employ 500 people. Additional phases could increase capacity to approximately 4 million units per year.
"The Mississippi plant will be ultra-modern with the latest tire manufacturing technology from Yokohama and the industry and has the potential to be one of the largest and highest output facilities," said Hikomitsu Noji, president and representative director of the Yokohama Rubber Co.
Presently, Yokohama supplies dealers and customers with product primarily from its plant in Thailand as well as GTY Tire, Yokohama's Mt. Vernon, Ill.-based joint partnership with Continental Tire the Americas. The YTMM plant will augment domestic production, reduce shipping costs and help the company remain flexible to market demand.
"For our dealers, this means product no longer has to cross the ocean to get to their door," said Noji. "For Yokohama, it means our dealers know we are here to stay for the long haul as business partners."
YTMM will be exclusively responsive to the needs of Yokohama's U.S. customers. "We will have a manufacturing process cycle from raw materials to tires that has shorter lead times, thus improving time to market for our product," said Yamamoto. "The plant will also be home to Yokohama's proprietary technology optimized to produce the best combination of retreadability, durability and fuel efficiency."
As a sign of cooperation and support for the community around the YTMM plant site, Yokohama also announced a $500,000 honorarium to Mississippi State University and East Mississippi Community College. "These educational institutions prepare students to be the workforce of tomorrow," says Yamamoto. "We are proud to be part of such a noble endeavor."