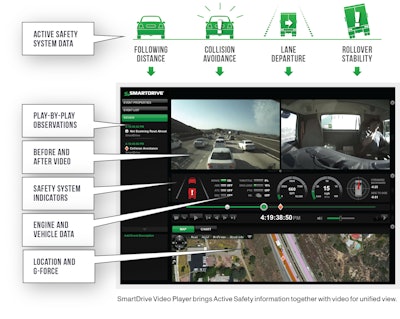 SmartDrive Systems, a provider of driving performance systems that reduce collisions and improve fuel efficiency, announced at the American Trucking Associations' Annual Management Conference & Exhibition the addition of active safety system data elements to its SmartDrive Safety program via direct integration to its data and video event recording platform.
The integration expands the capabilities of the SmartDrive platform by capturing data generated from a carrier's third-party active safety systems. It can also determine the difference between a high-risk and low-risk event.
By identifying and isolating risky events and combining them with onboard video, audio, and vehicle data into a unified view, SmartDrive says that fleets can quickly turn that information into effective driver coaching, reducing the risk of future collisions. The active safety systems SmartDrive works with include Meritor-Wabco, Bendix and Mobileye.
Active safety systems, such as collision avoidance, lane departure, roll-over protection and antilock braking, have proven their effectiveness in preventing or lessening the severity of collisions, improving safety for fleets that invest in these technologies. This information is often not readily accessible, the company says. In addition, when these systems engage the volumes of data they generate make it nearly impossible for fleets to use that information without significant investment of time and resources.
"For the first time, a unified, video-based view of Active Safety data brings clarity to what matters, eliminating the need to search through lists of no-risk events and use that information efficiently to lower the risk of future collisions," said Steve Mitgang, CEO of SmartDrive Systems. "This integration represents a major step forward in helping fleets take full advantage of the data their technology equipped vehicles are generating."
Instant email alerts notify fleet managers of safety events as they happen on the road and are available for review via the SmartDrive streamed-video Event Player. The system 'intelligently' isolates safety events from system warnings by placing key safety 'Compound Rules' into its triggering algorithms. For example:
A SmartDrive rollover event is triggered when a vehicle is going 20 MPH for at least one second while the accelerometer detects a change in the trailer's lateral motion compared to the forward motion of the cab
A SmartDrive forward collision event is triggered when a collision avoidance warning system is activated in conjunction with a hard braking event
A SmartDrive lane departure event is triggered when the driver departs a lane five times within 60 seconds (most likely distracted) or three times within five minutes (most likely fatigued)
"We believe our open platform approach represents the direction fleets want vehicle technology to head by helping them understand how their investments are performing and interacting together to improve safety versus the fragmented view of data they have today," said Mitgang, "As new innovations emerge in the months and years ahead, we look forward to working with other like-minded safety-focused technologies to integrate and create a safer driving environment."