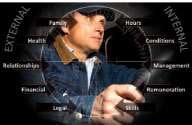 (EDITOR'S NOTE: This is Part 1 of CCJ's coverage from "All About the Driver", a panel discussion Oct. 22 at the American Trucking Associations Management Conference and Exhibition in Orlando. Part 2, on the impact of hours-of-service changes, is here. Part 3, on driver recruiting and retention, is here.)
Mileage-based pay cannot be abandoned, a panel of fleet executives agreed Tuesday, but the system must be adjusted to compensate truck drivers for the time they spend and the work they do when the wheels aren't turning.
Ideas on driver pay, along with recruiting and retention issues, the impact of recent hours of service changes and driver health and wellness initiatives all were tossed around during a driver-focused session at the annual American Trucking Associations Management Conference and Exhibition in Orlando.
ATA Chief Economist Bob Costello laid the groundwork for the discussion by presenting the results of his recent survey on industry trends. Costello said fleets are adjusting to continued tightness in the driver market by increasing pay and hiring newer drivers.
"While the driver shortage is generally confined to only certain segments of the trucking industry, it is having real impacts on how fleets recruit and retain their drivers," he said.
And the segment of the industry most affected by driver churn continues to be the long-haul truckload carriers, with turnover rates running at 99 percent in the first half of this year.
As a result, 91 percent of those fleets say they have increased or will increase driver pay this year. The survey also found that large TL carriers are mixed on whether they would employ across-the-board pay raises or incentive-based plans.
Citing government income figures, Costello calculates that driver pay, in terms of spending power, is down 10 percent since 1990. What makes trucking unique, even as a number of trades have seen wages erode over the same period, is that drivers are in high demand, he noted.
But it's not that fleets have reduced pay rates. The modern supply chain features a greatly reduced average length-of-haul, along with reduced productivity. Prior to the recession, long-haul trucks averaged 10,000 miles per month. That's down to about 8,100 miles today, Costello reported.
Moderator Dave Osiecki, ATA senior vice president of policy and regulatory affairs, posed the question: Is it time for trucking to move to hourly pay rates for drivers?
Simply, that would be "financial suicide," explained Steve Gordon, COO of Gordon Trucking Inc.
"Disconnecting driver pay from how we get paid by our customers is a very frightening thought for this industry," Gordon said.
But he was quick to admit that mileage-based compensation was overdue for adjustment.
"Just look at how much more time drivers are spending loading and unloading – and I'm not talking about ugly grocery unloads; I'm talking about simple drop-and-hooking a trailer. That's an hour out of his day."
And while truck drivers have always faced delays, the slide in a truck's average miles means drivers can no longer expect to have an especially high-mileage run to offset the time – and money – lost sitting at a dock, he added
"Drivers are gambling their paycheck every week on our ability to build a good, sustainable, fluid network. If we could line-out a schedule so a guy could know what he was going to do over the next five days, that would have an impact on turnover. But we're at the mercy of the shipping community," Gordon said. "The drivers are the ones taking the risk, not the shippers and not the carriers. That psychology is really tough."
Derek Leathers, president and COO of Werner Enterprises, said his company had given hourly pay only "short consideration, to be blunt."
Werner does employ "all kinds of pay," and some drivers in its dedicated fleet are not paid based on miles.
But Leathers agreed that as long as customers are paying fleets by the mile, it would be impractical to disconnect driver pay from that basic aspect of the trucking business.
And, as he explained, the problem wouldn't simply be one of mismatched scales: Drivers need to have the same focus on, and self-interest in, equipment utilization that their companies do.
"If we were to pay drivers by the hour, my fear would be that you would lose the biggest point of light that you have in your fleet, relative to inefficiencies," he said.
Private fleets don't face many of the uncertainties that challenge for-hire fleets, and their driver turnover rate benefits from a private fleet's regular routes and schedules. Costello reported that turnover rate at about 10 percent.
But, as Osiecki pointed out, for-hire fleets must compete with private fleets for drivers.
Jeff Flackler, vice president of transportation for Wal-Mart Stores Inc., put his turnover rate even lower, at 5 to 6 percent. Still, the company is "working harder" to recruit and retain drivers in certain areas of the country.
"One of the challenges for us is we're both a shipper and a carrier," Flackler said, adding that transportation efficiency is a critical component in keeping Wal-Mart's retail prices low. "We face different challenges than [for-hire carriers], but we have some of the same: How do you make a driver's life better?"
Flackler got the attention of the panel – and the audience – when he reported the average pay for a first-year Wal-Mart driver to be about $76,000. About two-thirds of the pay package is mileage-based and one-third is based on activities, plus a substantial benefit package. Flackler also noted that Wal-Mart hires only experienced drivers, signing only 350 from a pool of 13,000 applications last year.
While Wal-Mart is generally considered to be a driver-pay leader (the average TL first-year hire makes about half of what Wal-Mart pays) Leathers conservatively puts the pay gap between for-hire and average private fleets at 25 percent.
He suggested that for-hire carriers must challenge those shippers with private fleets during rate negotiations: "If the higher driver pay that we're advocating and pushing for is inappropriate or too much, then how do they justify within their own four walls that they pay those kinds of dollars?"
Leathers doesn't expect the for-hire industry to immediately jump to Wal-Mart-level pay scales for OTR drivers, "but somewhere between here and there is what it's going to take to move the needle."
A couple of percent in mileage pay, however, won't be enough. That's why activity-based pay, assessorials and targeted incentives already are higher than ever, Leathers added.
Osiecki pointed out that FMCSA has reviewed a study from Australia that concludes hourly pay leads to improved safety and is following up with U.S. fleets have use an hourly-pay model.
But – and to much applause from the audience – the panel rejected any suggestion that the federal government should have a regulatory "dog in the fight."
"It's demeaning for them to always think they're going to do it better than what we do, when it is our primary mission every day," Leathers said.
Still, he made the case that issues like driver pay and retention can't be settled until the entire industry adopts electronic logs, which will provide a fundamental, standardized metric to guide policy.
"The experimentation that we continue to have in tinkering with hours of service or pay methodology or any other thing doesn't make a lot of sense. It's way too dark out there. Turn the lights on," Leather said "Let's prove that we are serious about compliance and that we are committed to obeying the laws – before they continue to write new ones. We can argue about this as long as we want, the more likely it is that other things will comes at us that we like even less."