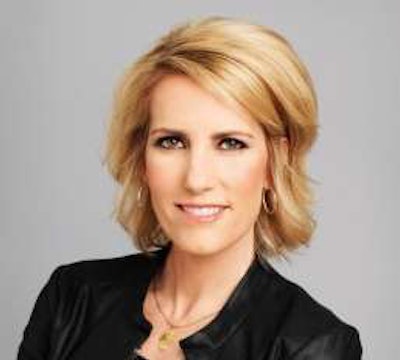 "You all literally make something move," Laura Ingraham, radio talk show host and Fox News contributor, told fleet executives Tuesday at the CCJ Fall Symposium in Scottsdale, Ariz. "That's a foreign concept in Washington," she said, which instead stops things — economic growth, wages, prosperity — from moving.
Ingraham contrasted fleets' level of customer service to the recent troubles with the rollout of Obamacare: "Imagine if you told your customer you'd need 30 more days to deliver the vast majority of their shipment. And then, even when your trucks pulled up, it turns out what you delivered wasn't what they ordered or wanted. And the prices were higher and the quality wasn't there. How long would the great fleets in this room be in business?"
Washington dysfunction was a recurring theme in Ingraham's remarks, from the failures of establishment Democrats and Republicans, to rising debt, out-of-control government programs and the need for fresh voices in politics who carry a positive conservative message.
Trust in our political system is cratering, Ingraham said, primarily because political consultants and politicians with no business experience or accountability are in control. "After they fail on issue after issue we're actually being told by these pundits that the 2016 election could be between another Bush and another Clinton," she said, each the favorite of the same establishment that didn't see the Internet bubble, the housing bust, or other disasters coming. "The establishment has been wrong in most of the decisions they've made over the last 13 years," she said. "How many of you could be wrong and still be in business?"
Except for the very rich, people have suffered in recent years, Ingraham said. Median income was $56,000 when George W. Bush took office. Last year, median income was $51,000, while the cost of fuel, food and education have risen. While personal income declines, our nation's debt is skyrocketing, from $5.67 trillion in 2000 when Bush took office to nearly $17 trillion today.
"There are a lot of stupid people destroying the country," Ingraham said, "but they are not the ones driving trucks, watching Fox News, having more than two children, or driving SUVs." Washington's message to these average Americans is "shut up, sit down, work harder every year and let the smarter people run things," she said.
Turning to the 2016 presidential election, Ingraham said right now New Jersey Governor Chris Christie is the most likely Republican candidate. Her advice to Christie or whoever receives the Republican nomination is to run an optimistic campaign, focused on the middle class. Key issues should be reforming the tax code, free trade, a humble foreign policy backed by a strong military and commonsense immigration reform.
The next Republican candidate should also seek to reinvigorate the states, she said. "Amazing things are happening," in Republican-run states such as Ohio, Wisconsin, Louisiana,Texas and North Dakota, she said. "Why are these states working and other states are failing?"
Looking to the 2014 mid-term elections, Ingraham said Republicans have a huge opportunity in the Senate, primarily because of Obamacare and the likelihood that next year 50 million employer-based insurance plans will be cancelled and few young people are buying into the program. "I don't think Obama's three-week campaign he's starting today is going to work," she said. "It was signed into law three years ago and he's still campaigning for it."