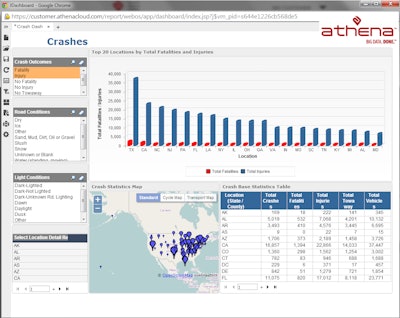 Before the Compliance, Safety, Accountability (CSA) program went live in the Fall of 2010, Vigillo, LLC, was helping carriers mine and understand their CSA data. More than 2,000 fleets representing 1.2 million drivers now use Vigillo's data mining software products to aggregate, organize and deliver complex CSA information in an easy-to-read scorecard format.
For most of 2013, Vigillo has been working on another platform to take its data mining expertise beyond CSA. With this new product, announced this week in Dallas at the American Trucking Associations Executive Summit on Technology-Driven Performance, safety will be the starting point for a much broader range of possibilities.
The new "big data" platform is Athena, named after the Greek god of wisdom, explains Steve Bryan, the company's chief executive officer. The software is designed around a four-step process: acquire, analyze, visualize and publish.
As an open source, software-as-a-service offering, Athena gathers data from a wide variety of sources, distills it into understandable information, and then presents it visually in a "dashboard" format that is accessible through all types of devices. It includes a report deployment scheduler.
Bryan says Athena is now available with about 30 initial dashboards for safety, operations, sales, maintenance, fuel purchasing, driver recruiting and retention, among others. The number of custom dashboards will soon increase as feedback comes in from the early adopters.
Vigillo customers can also build dashboards themselves using the different sources, or "channels" of data feeds included in the initial offering. Users can also import data from other channels such as spreadsheets or internal databases.
The initial 12 channels are focused primarily on trucking safety, efficiency and profitability with the majority of the data coming from public sources.
"We will continue to gather information from FMCSA, DOT and the standard locations we've been using for CSA information," explained Bryan. "However, with Athena we're taking it one step further and not just looking at CSA but at all things related to trucking.
"We're looking at US population statistics, GDP, weather, traffic, highway infrastructure investments, tolls, and more. Our goal is to intelligently answer the question 'why' and deliver that answer to anyone, anywhere, any time and in a way they can understand, whether it's the CFO or safety manager, shipper, driver or insurer."
In addition to gathering data from public sources, Bryan says Vigillo will be working with other industry data sources such as legal, training and onboard system providers, to capture relevant data from a wide variety of integrated channels.
Athena is offered as a monthly subscription similar to Vigillo's CSA analysis and reporting service. The CSA service costs $0.53 per truck per month. That service is included in one of the channels for Athena which costs an additional $0.35 cents per truck, per month, for the full platform. For a fleet of 100 trucks, the Athena platform would therefore cost $35 per month without the Vigillo CSA channel or $88 for the full package.