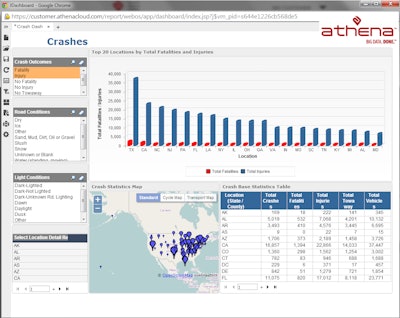 Due to i
ncreased demand in big data projects for transportation, Vigillo announced the addition of more expertise and 
capabilities to its Athena big data platform. 
In the five months since its launch, the Athena Cloud has exceeded 1 billion records on 17 enterprise servers.
"We developed Athena to be the hub of all of the data that is critical to trucking, and have experienced tremendous growth in its use by the industry across a range of disciplines," said 
Steve Bryan, CEO of Vigillo. "Athena's ability to absorb a huge volume of data
 and to analyze big-dollar challenges to a modern trucking company and provide valuable analytics is helping a growing number of companies make better business decisions."
New capabilities in Athena include customized Fuel and Maintenance dashboards:
Fuel Dashboard provides views of the location, volume and total purchases of fuel so a company can make more informed decisions about fuel contract purchases and shipping routes and optimize purchasing. Fuel reports in Athena provide location information organized by supplier based on volume and cost, and supplier information relating to pricing trends.
Maintenance Dashboard uses private CSA data combined with internal vehicle maintenance and breakdown information to create reports that identify types of breakdowns and how this information compares to or is affected by corresponding inspections, violations and CSA points across a specific date range.
U.S. Legal Channel and the Court Dispositions Dashboard 

reveals the disposition of driver citations by state, county, violation type, CSA/MVR, fine reduction, and time to disposition.
Adding to Vigillo's expertise is Andy Kaplan, who has joined the company as Athena's Technical Account Manager. 
Kaplan previously led a team at a datacenter solutions provider with a specialty in big data analytics, Microsoft and Oracle.
"The entire Vigillo team is focused on delivering big data in a useful, understandable format so business owners can operate their business fluidly," Kaplan stated. "A team with this much interest in providing a platform that drives their customer's success is one that I'm excited to join."