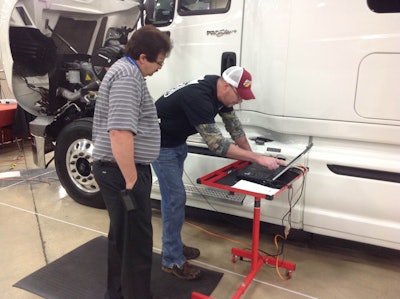 The 2013 Rush Truck Center Tech Rodeo kicked off Sunday in San Antonio with a paint and body repair challenge. The event continues through Tuesday when the Texas-based dealership group will crown its top technician.
Monday began the round for engine techs seeking a share of $20,000-plus in prize money.
Technicians were given 45 minutes to find and diagnose complaints on a variety of heavy- and medium duty units. Contestants are asked to find the reason the engine won't start, not necessarily make the repair.
Tim Harper, a Rush Truck Center – Doraville, Ga. tech in his first Rodeo, had a fairly wide-ranging complaint: The truck wouldn't start.
[youtube 8Nod2bJWmWU nolink]
Once he hooked the truck up through ServiceMaxx, Harper was well on his way.
"I saw that it was building zero fuel real pressure," he says. "I actually looked and saw the fuel supply line was swapped on the high-pressure fuel pump."
Harper, a Rush technician for two years who primarily services 13 liter MaxxForce engines, finished with more than 20 minutes to spare.
"It makes me nervous," he says of being the first contestant in the International group to finish. "I guess I probably should have went though the pressures…but I just know where the fuel lines go."
In his shop, Harper says the repair would only take "a couple minutes."
Drew Shaw, a Rush Truck Center tech from Smyrna, Ga., is also taking part in his first Rodeo, but he's been with the company for nearly 10 years.
Shaw, following a similar process as Harper, found the same result and finished only a couple of minutes behind.
"The high pressure fuel pump wouldn't return any fuel," he says, adding Navistar has provides technicians with a good hard-start/no-start protocol to follow in troubleshooting.
Shaw and Harper are two of nine MaxxForce technicians hoping to make it to the finals tomorrow, where they will be guaranteed at least $3,000 in prize money.