Spot market freight availability remained strong in November compared to the year before, according to the DAT North American Freight Index. For the fifth consecutive month, freight availability continued to outpace levels seen in recent years – and during a time when volume typically declines, the report notes.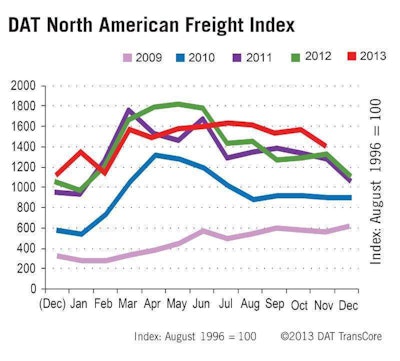 Month over month, however, freight availability declined 9.5 percent – the result of four fewer business days in November versus October. Comparing an alternative measure, average daily freight volume during the month actually exceeded October volume by 10 percent.
On a year-over-year basis, freight volume increased 8 percent.
Load availability increased 0.9 percent for vans, but declined 5 percent for refrigerated trailers and 21 percent for flatbeds, compared to October. Year over year, van freight volume declined 11 percent, while reefer loads added 6.2 percent and flatbed freight increased 4.3 percent.
The relative strength of November's overall freight volume was validated by an increase in spot market rates, the DAT report says. Rates rose 5 percent for vans and 1.9 percent for reefers compared to October, while flatbed rates declined seasonally by 2.5 percent.
Compared to November 2012, rates rose 6.0 percent for vans and 1.9 percent for reefers, but declined 5.4 percent for flatbeds compared to last year's record high rates in that segment.
Additional trend information and analysis is available at DAT Trendlines or the DAT Blog.
Reference rates are derived from DAT RateView. Rates are cited for line haul only, excluding fuel surcharges, which declined on both a month-over-month and year-over-year basis. The monthly DAT North American Freight Index reflects spot market freight availability on the TransCore DAT network of load boards in the U.S. and Canada.