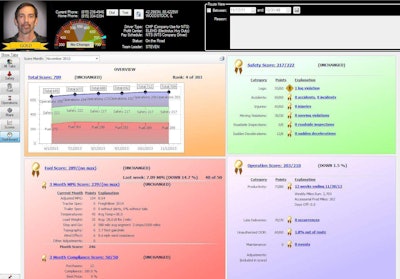 Editors Note: This is the first of a two-part series on emerging trends in performance-based driver pay. Part two discusses turnkey applications for monitoring and rewarding drivers.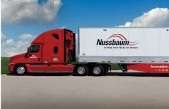 In the truck driving profession, performance-based pay goes back to the day the automobile replaced the horse-drawn wagon. Drivers have always earned their living by the mile rather than by drawing salaries or signing time sheets.
With the advancement in technology, fleets are now able to look at much more than the odometer to determine what drivers are worth.
In the past two years, Nussbaum Transportation has made big strides in developing a fair and objective performance-based program. Central to this effort is the advanced software system it uses to automate its incentives and give drivers and managers the information they need to maximize earnings.
When Nussbaum switched insurance companies in 2010, a consultant for its new insurer created a monthly scorecard for Nussbaum to manage its safety performance. The monthly meetings with the consultant always ended with action items to complete by the next meeting.
Nussbaum decided to apply this process elsewhere in the company. It first created a driver safety scorecard and soon after added a fuel scorecard.
The safety scorecard begins with a points balance for accident-free driving, accident-free working, and ticket-free driving. Drivers lose points when events occur in each category.
Its fuel scorecard measures fuel-efficient driving, low idle, and fuel purchase compliance. An operations scorecard grades productivity, on-time service, and out-of-route driving. A maintenance scorecard is now in progress to reward drivers for detecting equipment issues and to subtract points for missing them.
Nussbaum plans to continue adding more categories and objective measures to its scorecards as time and IT resources allow, says Jeremy Stickling, director of human resources and safety for the 230-truck fleet.
No room for excuses
Management put a lot of thought into its fuel scorecard to avoid an "all-or-nothing" approach where drivers either receive a bonus for meeting a target mpg or walk away with nothing.
"Our experience is that is a big de-motivator," he says. Drivers that miss the target tend to blame circumstances beyond their control like the weather or the weight of loads they haul.
Nussbaum's fuel program accounts for all of these factors and more. The company designed a software program in .NET called Driver Excelerator to collect, analyze and score fuel-related data from a variety of sources.
The mpg numbers come from the electronic control modules (ECMs) of engines captured by its PeopleNet mobile computing system. This mpg is compared to actual mpg based on fuel purchases and miles to ensure accuracy.
Drivers earn fuel points for being above the fleet's target mpg. They earn one point for every .01 mpg they exceed the target. If the goal is 6.5 mpg, for example, a driver that achieves 8.5 mpg average for the quarterly measurement period gets 200 points.
The Driver Excelerator has built-in formulas that give drivers handicap points for mpg based on year and model of truck, the absence of an auxiliary power unit (APU), and by the type of trailers they pull.
The software also adjusts mpg for load weights. Heavier loads get a handicap; light loads take the points back. It also handicaps mpg for weather through a database of truck locations, reported in 15-minute increments, cross-referenced to temperature records from a national weather database.
"A guy in Minnesota is at a much bigger disadvantage for mpg than someone in Texas," Stickling says. Yet, on any given day, this could change if a winter storm moves through Dallas. "The colder temperatures are taken into account."
The software also matches truck locations to wind speeds and wind directions. If drivers claim they were fighting headwinds, Nussbaum can instantly tell the driver how many points they received to compensate them and then quickly move to discussing more pertinent information like the driver's speed and RPMs.
Driver Excelerator also accounts for topography and trip length; shorter trips are likely to lower mpg because of more stop-and-go activity.
"The reason we do all of this analysis is to measure what the driver's real situation was," he says. "That has to be resolved in their mind for them to be properly motivated."
Every month, drivers receive a four-page scorecard in the mail. Managers have live access to driver performance statistics. By using the custom software, driver managers can see driver history and compare a driver's performance to other drivers doing similar routes.
Getting paid
Nussbaum has a three-tier bonus structure. Drivers whose points totals fall within the first tier, Bronze, receive $0.50 cents a point. Silver pays $5.00 a point and Gold $8.00. Some Gold-level drivers are making over $1,600 in bonus money every three months.
Drivers can choose a per-mile incentive as well. The incentive ranges from 0 to $0.05 per mile based on point totals. This program is the default option for new drivers because of the recruiting benefits of offering drivers a base pay that includes $0.02 per-mile of incentives.
The number of points drivers earn during one three-month period determines the extra amount they earn, per mile, for the next quarter.
"Most guys go up, not down," he says. Nussbaum Transportation plans to make performance-based pay a greater portion of drivers' base pay rate. "For us to do that, it needs to be per mile. If it becomes 15 percent of pay, it doesn't make sense to pay drivers a low amount and then get four big checks per year. Guys want their money now."
As for results, Stickley says some drivers have raised their mpg by one whole number just by slowing down. "One guy goes 57 mph everywhere he goes unless he has a tight load," he says. "There is a full MPG in the driver's right foot."