In April 2013, David Lambert drove his truck off of U.S. 258 in Wight County, Va. The accident killed 55 pigs in his trailer. On Nov. 29, an 18-wheeler driven by Antonio Marquez overturned on Virginia State Road 10 in Suffolk headed north towards Smithfield. The accident caused the premature death of approximately 80 of the 180 pigs on board.
In both cases, the drivers were charged for the accidents. According to People for the Ethical Treatment of Animals (PETA), the blame extends higher up. On Dec. 18, PETA sent a letter to Bob Ivey, the general manager of Goldsboro Milling Co., based in Goldsboro, N.C. The company owned the pigs involved in the accidents.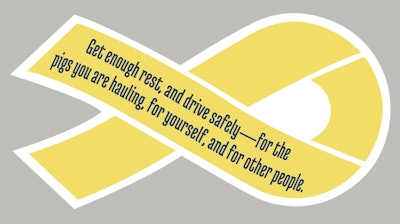 PETA supplied Ivey with a box of specially designed magnetic signs. It asked Ivey to place the stickers on the doors of trucks to urge drivers to exercise more caution: "Get enough rest, and drive safely — for the pigs you are hauling, for yourself, and for other people."
PETA shared the letter it sent to Ivey with news publications along with a scathing press release about Goldsboro Milling Co. The president of PETA goes so far as to say that "Goldsboro Milling's safety record regarding fatal crashes is one of the worst in the business."
There is a major problem with this assertion, however. Goldsboro is one of the largest hog farms in the United States. The company raises and sells hogs but does not transport them. Where then did PETA get the company's safety record from? Not from the Federal Motor Carrier Safety Administration.
"We were not involved in the accident," Ivey said during a phone call on Jan. 2 with CCJ. He verified that he received the magnets, but then forwarded them to the trucking companies that do business with Goldsboro Milling Co. to do whatever they want with them.
This is a common fallacy of PETA and other activist organizations. They often ignore the facts and blame the people and organizations they know will evoke the strongest public reaction. Ask yourself, do you naturally feel more upset with the reckless driving of David Lambert and Antonio Marquez or with Bob Ivey, the general manager of a large corporation that makes millions selling and harvesting pigs?
On the phone, Ivey came across as a soft-spoken North Carolinian who expressed genuine concern for his pigs and the people who transport them.
"I care more for my animals than anyone does. Anything that can improve their well-being and safety is certainly something I am interested in," he said. To illustrate the point, Goldsboro Milling Co., was one of the first companies to put together an emergency response team for livestock accidents.
"We give support to anybody transporting livestock. It is a voluntary thing," he said. "We have been the leaders in that."
If PETA is truly concerned about the welfare of animals, perhaps they should throw their support behind revisions to the hours-of-service rule. As the rule stands, drivers have a mandatory 30-minute break within the first eight hours of driving. They must also remain off-duty for a minimum of 34-hours after 70 hours of being on-duty during a week.
Does PETA have any sympathy for animals that are stuck in a parked trailer due to government regulations? If they do, they should thank the truckers who are doing their best to make sure the rules don't cause unnecessary suffering for the animals.
Philip Sims Trucking, a livestock and machinery hauler based in Otis, Colo., uses team drivers for the longhaul routes to ensure that livestock does not have to wait for 30-minutes or longer during the day.
"You can't afford to let (the animals) get hot. You have to keep air going through the trailer," says Philip Sims, the owner of the 17-truck fleet. This rule also applies to instances where a driver runs past the 11-hour driving limit due to a traffic delay or other circumstances. It is better for drivers to reach the destination on the animals' behalf, even if it means violating the hours-of-service rule, he says.
Something that would be easy for PETA to do is send out a press release to congratulate Maggie Stone, the winner of Overdrive's inaugural Most Beautiful Woman in Trucking contest last year. Stone, a hog hauler, uses a more humane approach than beating and prodding hogs to leave the trailer; she sings Homer Simpson's "Spider-Pig" song.
"Apparently they don't like the sound of a woman's voice because they're usually just around men," she said. "I started singing to them, and it just scared them so badly, they ran right off the truck."