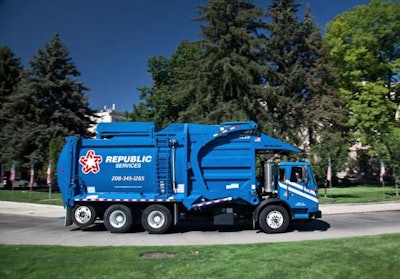 Republic Services announced it has replaced older diesel-powered trucks with 79 new compressed natural gas solid waste and recycling trucks serving Indianapolis and surrounding areas.
"With these new trucks, we are reducing ozone-forming emissions to levels equal to removing 395 automobiles off local roads this year, and in the next year 70 percent of our local fleet will be powered by compressed natural gas," said Travis Simpson, area president of Republic Services.
Republic installed two natural gas fueling stations to support its new fleet of CNG powered trucks in Indianapolis. Natural gas fueling stations enable CNG trucks to fuel during non-peak hours, which has the added benefit of reduced energy consumption during the refueling process.
Republic operates a fleet of more than 1,400 CNG vehicles and 26 natural gas fueling stations nationwide. Approximately 50 percent of all Republic vehicles purchased in 2013 are powered by the domestic fuel source.