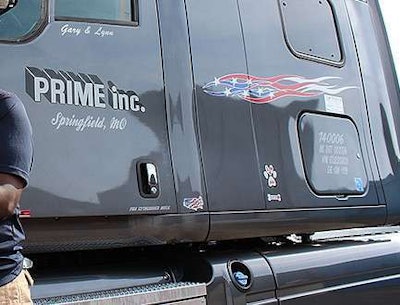 The Department of Labor's Occupational Safety and Health Administration has ordered the Springfield, Mo.-based New Prime Inc. to pay one of its former drivers more than $100,000 in back wages and damages after OHSA determined it had submitted "damaging and misleading information about his employment" to a driver screening service.
New Prime is part of Prime Inc., No. 17 on the CCJ Top 250.
OSHA says the move was retaliatory and that the carrier violated provisions of the Surface Transportation Assistance Act that protect drivers from retaliatory actions from carriers.
The driver — whose name was not released by OSHA — submitted the complaint to OSHA that spurred the investigation.
OSHA's announcement says the driver notified New Prime in October 2008 that he had injured his back on the job and was prescribed medicine that made operating his truck unsafe. He recovered by July 2009 and was cleared by his doctor to return to full driving duty.
Instead of returning to New Prime, though, he tried to get a driving job elsewhere, per OSHA's announcement.
The driver then learned, according to OSHA, that New Prime had given Drive-A-Check Report — a pre-employment and drug testing screening service — bad information on the driver's employment history.
Prime spokesman Clayton Brown says the carrier has appealed the ruling. "Prime's policy is to not comment on pending litigation. Prime is appealing this investigative finding and litigation will begin shortly. The next step is to have a trial on the merits."
The breakdown of the $100,000 award is: $41,373 for lost wages, with interest, between July 1, 2009, and April 1, 2010; $40,000 in compensatory damages for pain, suffering, emotional distress and loss of home and property; and $20,000 in punitive damages "in light of the company's reckless and callous disregard for the worker's rights under the STAA," according to OSHA's announcement.
New Prime was also ordered to expunge the driver's employment and DAC Report records.
"Blacklisting an employee and sabotaging a worker's career is unacceptable. It can have a dangerous ripple effect if employees are compelled to drive when unwell or under medication because they are afraid they will lose their livelihood," said Robert Kulick, OSHA's regional administrator in New York, whose offices conducted the investigation. "OSHA will not tolerate employers retaliating against its employees for reporting violations, including forcing employees to operate commercial motor vehicles when doing so would be unsafe for the driver and the public."