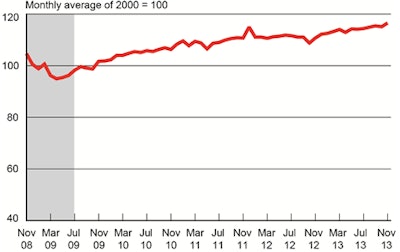 For-hire transportation carried 1.2 percent more freight in November than it did in October, according to the Department of Transportation's Bureau of Transportation Statistics. The increase again pushed the BTS' Freight Transportation Services Index to an all-time high — its second in the fall of 2012.
The index read 116.5 in November, up from September's all-time high of 115.8 and the previous all-time high set in December 2011, 115.2.
November's increase came after a one-month decline in October, but returned "to the growth that has characterized the second half of 2013," the DOT said.
Growth in "tonnage intensive industries" helped push the index so high, the DOT says, as heavy construction and oil and gas fracking have picked up in recent months, producing heavier tonnage. Auto production has also grown.
November's index reading was 22.8 percent higher than April 2009's low 55 months ago, and the index has been above 2012's high in every month of 2013.
It was also up 5.2 percent from November 2012, the DOT says.
The index measures month-to-month changes in freight shipments measured in tons and ton-miles, which combine to form the index.