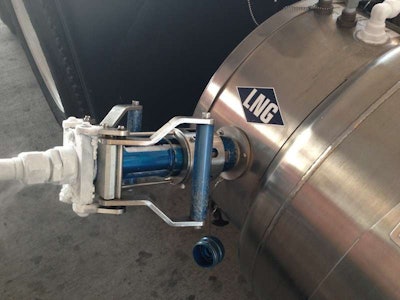 A trio of bills have been introduced in the U.S. House aimed at boosting use of natural gas in long-haul trucking by making the fuel more available.
U.S. Representatives Sam Graves (R-Mo.) and Lee Terry (R-Neb.) sponsor the three pieces of legislation, the first of which (H.R. 3938) would direct the Department of Transportation to designate natural gas fueling corridors for long haul truck traffic.
The second (H.R. 3937) would establish a task force to determine what barriers currently prevent trucking companies from transitioning to natural gas and to determine what a large scale industry switch to the fuel would do to the Highway Trust Fund. The task force, which would be made up of the Department of Energy, Department of Commerce, the EPA, some members of Congress, state government representatives and representatives of the private sector, would be required to produce a report within 120 days of the bill becoming law.
The third bill (H.R. 3940) would give trucks running on natural gas a weight exemption to mitigate the weight of the natural gas tank to prevent them from being at a competitive disadvantage.
"America is rich in natural gas resources, as we've seen in recent years with the shale gas revolution," said Rep. Graves, who chairs the Small Business Committee. "Natural gas is more cost-efficient than diesel. It also has the ability to substantially reduce emissions. Utilizing natural gas in the long haul trucking industry just makes sense."
Terry echoes Graves' points, saying he is a "strong advocate for diversifying" the U.S.' energy supply.
"On a recent trip to the Baaken, I witnessed first-hand our abundant supply of natural gas being flared because it's cheaper to burn than it is to capture. With this plentiful resource, I'm convinced that we can and must expand natural gas use in transportation. Learning everything we can about barriers to natural gas use and removing those barriers should be common sense in our quest for an all-of-the-above energy strategy," he said.
President Barack Obama in his State of the Union address Tuesday said Congress should act to bolster natural gas use in the U.S.
The American Trucking Associations says it supports the legislation:
"The introduction of clean, efficient, abundant, and affordable fuel is a top priority for the trucking industry," ATA said in a statement. "Everyone benefits when the nation's goods are transported in the most efficient manner possible. ATA is quite pleased that Reps. Lee Terry and Sam Graves on-going efforts to make natural gas, one of those options for us, a reality. "