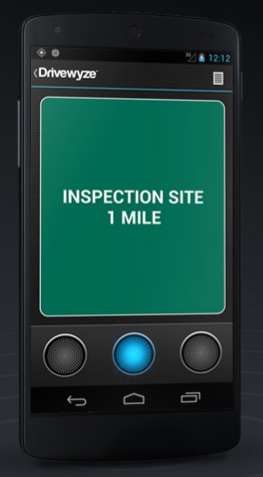 Drivewyze is announcing a free nationwide weigh station and inspection site alert service available without subscription to all truck drivers with the launch of PreClear 3.0, the newest version of its weigh station app.
"By downloading this free app from the Google Play store onto their Android smartphones or tablets, drivers will receive advance notice of upcoming weigh stations and inspection sites, so they have time to prepare," said Brian Mofford, vice president of Drivewyze. "Users will get an audio and visual alert two miles and one mile before the weigh station. They will know when they need to be in the correct lane and to slow down to pull in to the station or inspection site, if necessary."
Users can download the free app and use it immediately without any obligation or time limits, Mofford said. Plus, they don't have to create accounts to access the free weigh station alert service.
"We know most drivers appreciate practical tools to improve safety," he said. "The Drivewyze Weigh Station Heads Up service works in all 50 states and recognizes both permanent weigh stations and temporary inspection sites at more than 700 locations nationwide."
At any time, users can click a button in the app and start an optional 30-day free trial of the subscription-based Drivewyze PreClear weigh station bypass service. With the bypass service, drivers receive not only a free heads-up notification, but also the opportunity to request and receive bypass privileges at 252 weigh stations and inspection sites across 19 states. Bypass rates range from 50 percent to 98 percent based on a carrier's credentials and safety record.
Drivewyze has agreements with 19 states that use its PreClear bypass system and is adding about one state per month, he says.
To register for the bypass service, company drivers or owner operators enter their company's DOT number, license and truck VIN to satisfy most requirements for law enforcement to pull up the company's safety information to clear the trucker for bypass. Fleets can also sign up for Drivewyze to be deployed on their existing telematics devices.
The new version of PreClear 3.0 also features improvements to the user interface, Mofford said. Drivewyze is a hands-free service that is safe and compliant with all federal and state driving laws.
The initial release of the nationwide Weigh Station Heads Up service is available only for Android users. The PreClear bypass service remains available for both iOS and Android devices.
While the Drivewyze PreClear heads-up service is free, the bypass service is subscription-based and starts at $15.75 per vehicle per month with free trial offers and volume discounts available.
"An FMCSA study demonstrated that one weigh station stop made for several minutes at a time can cost $8.68 in fuel and time lost so the cost of PreClear bypass service pays for itself in just a few bypasses per month," Mofford added.
"The number of states and weigh stations offering the premium bypass service is quickly growing," Mofford said. "Less than 12 percent of trucks use traditional bypass services and more and more agency partners across the country are recognizing that offering more bypass options to trucks will lead to higher industry participation. Industry wins with more choice, more bypass sites and more profit, while everyone advances in the mutual goals of improving highway safety and mobility."