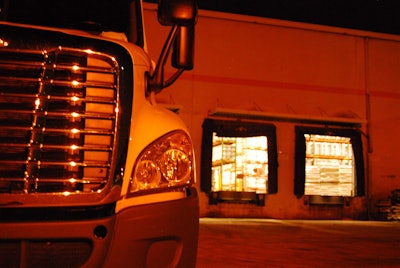 An advisory committee to the Federal Motor Carrier Safety Administration has prioritized 38 items for the agency to consider pitching to Congress to be included in the next highway reauthorization bill, technically due Oct. 1, though Congress could choose to simply extend MAP-21 while work continues on a larger bill.
FMCSA's Motor Carrier Safety Advisory Committee — made up of stakeholders from carriers, enforcement and safety groups — met this week in Alexandria, Va., for two days to produce a list of items for consideration for the next highway bill.
Here are the 12 items receiving majority support from FMCSA's Motor Carrier Safety Advisory Committee, along with how many votes each received:
1. Exploring broader, tougher standards for New Entrants (15 votes): Support was shown for not only increased vetting of new carriers, but speeding up the New Entrant safety audit, which currently is required to happen with the first 18 months of a carrier gaining authority. Other ideas pitched at the meeting included increasing insurance requirements and raising registration fees.
2. Bring shippers into the driver coercion fold (15 votes): MCSAC members agreed here that excessive detention time forces drivers to operate unsafely, a form of driver coercion. Danny Schnautz, operations manager for Clark Freight Lines, said excessive detention time by shippers is " a driving force behind the entire industry," saying shippers should :be held responsible for holding the truck up. FMCSA needs to pursue what they can do to ensure that when a truck is held up, the company and/or the driver are paid."
MCSAC Chairman Stephen Owings concurred. ""That whole concept should be expanded to require that the whole 'chain of responsibility' is on the hook financially and every other way for doing anything to encourage dangerous behavior by the truck drivers."
3. FMCSA should embrace intelligent infrastructure (13 votes): As a means to improve safety, the agency should begin backing smart infrastructure and technology like smart stop lights.
4. Driver pay reform (12 votes): In addition to establishing a "safe pay rate," FMCSA should work to repeal the industry's exemptions to Fair Labor Standards Act, currently preventing interstate truck drivers from taking overtime pay. Drivers unions and the Owner-Operator Independent Drivers Association obviously came out in support here, as OOIDA's Todd Spencer noted "the 40-hour work week went away for drivers a long time ago." Some consensus was formed that carriers would work to optimize use of drivers' time if pay reform were to happen.
5. Require FMCSA to publish rules regarding sleep apnea and drivers' med cards (12 votes): A bill requiring the agency to pursue sleep apnea rulemaking rather than guidance — if it chooses to take action — became law in October. However, MCSAC advises Congress to take it a step further and actually require rulemaking.
6. Address truck parking shortage: The agency should focus additional resources in creating a long-term plan for creating adequate and safe trucking parking.
7. Update trailer underride guard standards and explore side-underride-guard standards (9 votes).
8. Require FMCSA to publish a rule mandating speed governors (9 votes)
9. Require collision avoidance technology rulemaking (9 votes)
10. Increase funding for four-wheeler enforcement (8 votes): Funding for truck enforcers enforcing traffic around trucks is limited to Motor Carrier Safety Assistance Program grant. MCSAC wants the funding cap raised from 5 percent to 10 percent.
11. Advocate against size and weight changes until MAP-21-required report is completed (8 votes).
12. Increase minimum insurance requirements above $750,000 (8 votes).
Click here to read coverage of the first day of MCSAC's meetings.