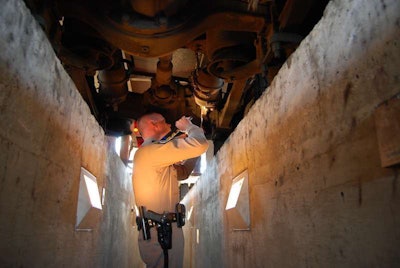 Industry stakeholders argued Monday, Feb. 10, that the next highway bill should include reviews of current trucking regulations — especially those that don't correlate to carrier safety, like the Federal Motor Carrier Safety Administration's Compliance, Safety, Accountability program — along with changing driver pay to repeal some exemptions of labor laws.
Representatives from trade groups like the American Trucking Associations and the Owner-Operator Independent Drivers Association, along with representatives from fleets, unions, enforcement and safety groups, joined the FMCSA's Motor Carrier Safety Advisory Committee Feb. 10, the first in two days of meetings aimed at preparing the agency's recommendations to Congress for the upcoming highway reauthorization bill.
MCSAC took the recommendations from Monday's meeting and will prepare a list of 30 recommendations to deliberate Feb. 11 to finalize a list to send to FMCSA.
Todd Spencer of OOIDA was a prominent voice Monday for reviewing regulations and their correlation — or lack thereof — to crash rates or general safety. "The reality is many of them aren't" correlated, Spencer said. "They're things that just get written up…Where we are with CSA is that it is a really questionable tool for promoting safety, simply because it measures so many things without a clear connection to safety."
Gary Catapano, senior vice president of safety for bus fleet First Student, echoed some of Spencer's sentiments, citing the Driver Fitness CSA BASIC and its negative correlation to crash rates, as those with higher Driver Fitness scores have fewer crashes. He also noted this was particularly troublesome since the scores are available to the public, allowing customers to make judgment based on them.
"People in the business community are misusing these," he said, pointing to an example with his carrier, in which 21 citations for drivers not carrying medical cards have been issued in 1,500 inspections, pushing his carrier over the intervention threshold in the Driver Fitness BASIC.
Now, he says, customers have said they aren't going to do business with the fleet anymore over what he calls "the least important of these categories."
MCSAC members also showed support for busting up some of the exemptions the industry has for the complying with the Fair Labor Standards Act, exemptions that essentially make overtime pay and minimum wage protections for interstate drivers nonexistent.
"Law should require the agency to put forward a minimum safe rate to be applied to commercial drivers and require that rate to be paid," said Bruce Hamilton, representing the Amalgamated Transit Union. He also said the law should "get rid of the incentive that employers have to get their drivers to work more hours than they really should."
Danny Schnautz of Clark Freight Lines in Texas, agreed with Hamilton, saying provisions like that would prevent fleets from asking drivers to work more hours and would instead "make employers optimize drivers' time."
Schnautz, however, also pointed to detention time as an issue the next highway authorization bill should attempt to tackle, saying shippers and receivers should be subject to safety regulations too. He also said drivers and carriers should be paid for time spent detained at a shipper or receiver.
Stephen Owings, chairman of MCSAC, agreed. "That whole concept should be expanded to require that the whole chain of responsibility is on the hook financially and in every other way for doing anything to encourage dangerous behavior."
Another item of interest for carriers was ATA's Rob Abbott's request that FMCSA allow carriers to use hair testing as a means to fulfill federal drug testing requirements for drivers. Some carriers already use hair testing, but must also do urine testing to comply with federal regulations.
Abbott also advocated for a national notification system for CDL suspensions and revocations, saying as it stands now, carriers can only evaluate drivers based on the status in their current state and may not know about possibly revocation from another state.